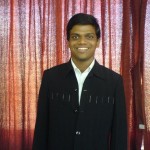 Name – Rahul P. Parab
Graduated BMS in the year – 2008
College – Mulund College of Commerce
Currently working – Working as Financial Analyst
Company – CMC Ltd
Tell us something about yourself
Hi friends…Rahul Parab here, aspires to become a well-known personality in the world. I like to interact with people across the boundaries to gain as well as to share knowledge. I like to surf social networking sites to keep in touch with my friends and relatives. I live life like it's the last day of my life. My Mantra towards life is "Enjoy life at every moment".
Tell us something about your BMS college
Parle Tilak Vidyalaya Association's Mulund College of Commerce is founded in the year 1970. Doing BMS from MCC was a nice experience; I got to learn many things from well-known Professors there. There was good support from professors during our Festival days and our college events. We had a great time in our college event "SPECTRUM" as well as "CRESCENTE"- A BMS Event.
When did you join BMS? Which year you graduated BMS?
I had joined BMS in 2005 and completed my degree in the year 2008.
How did you start your career?
My career started when I associated with ManagementParadise.com Forum in the year 2006 during my 2nd year of BMS. I learned a lot while working there, with Kartik Raichura (CEO of MP.com). I kept on helping forum members there by sharing my knowledge with them, eventually helped the firm. I could help MP by promoting their activities in my college also. After my graduation, I got the golden opportunity there to conduct OnlineGDs for MP members, thanks to Gaurav Mittal. I gained so much knowledge around the world there, which helped me in my career to a great extent.
Then, I looked forward to a reputed job that will help me in growing my career. Gone through the struggling days initially while finding a perfect job, but finally got an excellent job as Financial Analyst in CMC Ltd. (TCS Subsidiary). I am working at CMC Ltd currently.
Share with us some of your favorite college memories – Sad, pleasant or anything?
There are many….. Fresher's Party, College event SPECTRUM, Our TY BMS' Industrial Visit to GOA, Group Work together for Entrepreneurship Project through solid team efforts, Success in my 100 marks project and viva, our last day in the college.
Who in your life has influenced you the most?
Who else, Kartik Raichura (CEO of ManagementParadise.com)… a young entrepreneur is idol for me… My TY BMS Finance Professor Arvind Dhond Sir too has also influenced me.
Has BMS course really helped you in the corporate world or in MBA?
Absolutely. It taught me etiquettes, confidence, communication skills, time management and many more skill.  In short, BMS course made me strong enough to face the corporate world, which is really helping me currently in my work.
As BMS alumni, what changes would you like to bring in management education?
Still BMS education needs to be more practical than theoretical. Professors teach students what is there in the books but they should make students aware about general knowledge related to the topics. They can assign more caselets, case studies, etc. Students also must realize that it's not just about 40 internal marks, but they are doing all project and assignment work for the betterment of their future. Application of planned things is one of the important things to do for every BMS institute.
One more point, 3rd year Specialization is limited only upto finance and marketing. It should make available in HR, Operations, Retail, etc.
What is the ideal career option after BMS? Why?
A BMS graduate must take MBA at post-graduate level to strengthen their careers. According to me, MBA is a fruitful career option to all BMS students for sure as they go though most of the subjects in their BMS education. Application of the BMS experiences is important in MBA studies though. There are more options of professional courses apart from MBA these days, like CFA, ICWA, ICA, etc, depends on individual interests. But I must say no other course will develop your personality like MBA does, which eventually will help you in corporate world.
Do you think internship/work experience is a must before pursuing MBA?
If you ask me, I would say you should get a minimum 1 year work experience before going for MBA studies. Directly starting with the job after done with your MBA would be quite difficult for an individual. So, I would suggest one to go for corporate –level job for 1-2 years, after your graduation to gain experience; complete your MBA. I am sure you will be very confident for a manager-level job then.
What message would you like to give to the current BMS batches?
BMS is the best degree at graduate-level these days. Gain knowledge as much as you can, while doing project work and presentations. Enjoy these 3 years at fullest and never miss to participate in events, games & activities. Study seriously in 3rd year and try to bring awesome result. This result makes a lot of impact to your future career. On the other hand, at corporate level your talent & skills matter, not your marks. But don't take anything lightly in life. Have fun. Enjoy college life. You are going to miss it after your graduation…
Your suggestions/feedback for BMS.co.in?
BMS.co.in was not there when I did my graduation. As far as I know, BMS.co.in is a great support for all current BMS students. I like the structure of the site, sections and festivals. The most important section of this site is Interviews from BMS students. This site gave us and them a platform to speak, otherwise they don't get a stage to talk freely. All the best to BMS.co.in; have a great success ahead.
The following two tabs change content below.
We, at BMS.co.in, believe in sharing knowledge and giving quality information to our BMS students. We are here to provide and update you with every details required by you BMSites! If you want to join us, please mail to contact@bms.co.in.