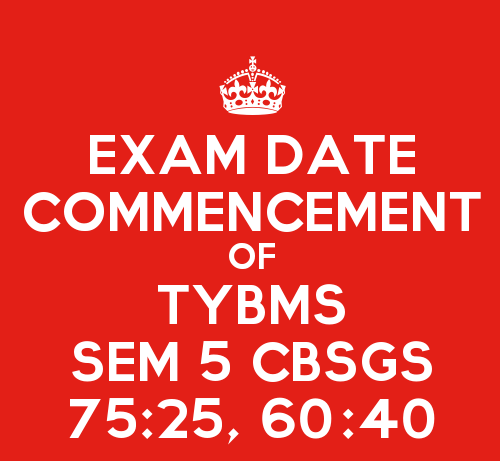 Hello TYBMSites,
Mumbai University has declared the date of commencement of B.M.S. Third Year Sem 5 CBSGS (60:40 and 75:25 exam pattern) to be held in Second Half of 2015.
Students are hereby informed that the TYBMS Sem 5 CBSGS 60:40 and 75:25 exam starts from 17/11/2015 i.e. 17th November 2015.
Students can check the official circular at the Mumbai University website. Direct link is here : Second Half 2015 Exam Date Commencement
Process to check the circular:
Go to the new website of Mumbai University: http://mu.ac.in/portal/
Go to Exams and Results section: http://mu.ac.in/portal/examinationsresults/
Click on "Examination" section: http://mu.ac.in/portal/student-section/examination/
Check the section "Dates of commencement of the examinations for Second Half 2015"
From the given list, select "List 1" written besides the "Management" section.
The pdf of exam dates commencement will appear.
The exam timetables i.e. exam dates, subjects and timings will be updated on the university website shortly.
BMS Team wishes you all the TYBMSites, best luck for the exams.
🙂