Standing in the job market, post your graduation is not a favorable position today for any student who applies as a fresher. A very no-frills salary, a lot of work load plus a very very junior position is what awaits you, unless you have added frills of different certificate courses to your merit.
But what happens to students who had to take up courses like BMS? 3 years of non-stop grinding, PPT's, assignments, tests, Exams, case studies and the list is endless, and I am sure this holds true for most of you who are doing specialized or self-financed courses as they say it in The University Of Mumbai.
Where do we manage the time to get rolling and do up a certificate based course and even after spending so much more on these courses do they actually give us any skill set that benefits us for the future? Not really! Practical experience always beats theory knowledge and your potential employer wont fail to notice you in case you list down some of the skills you are well equipped with unless you have some sort of work experience to back it up!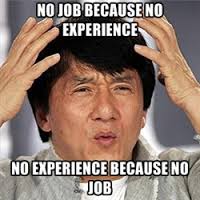 If you are going to spend some time and slog it out along with your studies, spend that time in actually gaining instead of shelling out more money! The benefit of internships which we all fail to notice is that they give us a very clear idea of whether we wish to continue in the field as a professional or no, they help us make the right career decisions for our future and the set of skills developed will definitely stay with us forever.
You might also take up an internship into something that doesn't directly deal with the degree you are pursuing but is something that interests you as a hobby. It may be a creative hobby like writing, go ahead and take it up because except for the obvious skills set of writing you will definitely learn things like team work and communication, that transform your personality in the eyes of your potential employer!
Just the experience of preparing a C.V, going in for your interview would be helpful, its better to be rejected and learning your lessons at a internship than your first job application right?
Don't just put of internships as unpaid and time consuming, realize how beneficial they can be, and surely you can have the right boost to your future career!
Are you passionate about writing / blogging? Do you think your writing has the power to motivate someone? Are you creative in expressing your thoughts through words? Wanna own a blog/website/publication in future?
If you believe in the power of writing, this role is just for you!
Required #25 Awesome Content writers for BMS.co.in. The topics will be around the following themes – Technology/ Entertainment / Sports / Politics / Health / Society / Fashion / Food / Youth / Travel / Business / Humor / Careers / Interviews/ Academics / Culture / Current trends. 
Send in your resumes to [email protected] NOW!