Everyone knows about ALS and the ICEBUCKET CHALLENGE and its a buzz all around the globe and many celebrities and People are up for it.
With everyone from former President George W. Bush to Justin Bieber and Lady Gaga posting online videos of themselves dumping buckets of ice over their heads in the name of charity, the viral "Ice Bucket Challenge" continues to dominate social media and has now raised more than $40 million for amyotrophic lateral sclerosis, commonly known as Lou Gehrig's disease.
Donations to the A.L.S. Association, a Washington-based non profit that funds global research to find treatments and a cure for the disease, The Association said that it had received $41.8 million in donations from July 29 until Aug. 21.
More than 739,000 new donors have given money to the association. That's more than double the $19.4 million in total contributions the association received during the year that ended Jan. 31, 2013.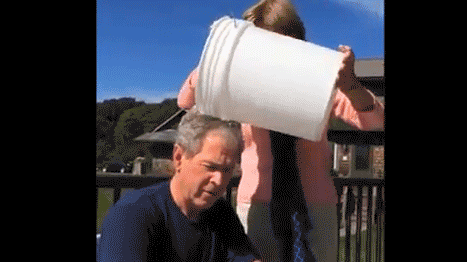 About 30,000 Americans and many more now have A.L.S., which attacks nerve cells and ultimately leads to total paralysis, though the mind remains sharp. Life expectancy is typically two to five years from the time of diagnosis. The exact cause is not understood and there is no cure or treatment that stops or reverses the disease. One Food and Drug Administration-approved drug slows its progression, and other drugs are in clinical trials, according to the A.L.S. Association.
In addition, the Ice Bucket Challenge has raised awareness of the disease, which the A.L.S. Association said only half of Americans were aware of about a month ago.
Donations to the group have grown rapidly as a wave of politicians, sports stars, actors, musicians, chief executives and other celebrities joined in the challenge in recent days. The A.L.S. Association announced last week it had received $7.6 million in donations from July 29 through Aug. 14. Between Wednesday and Thursday alone this week, the group had raised an additional $10 million.
The A.L.S. Association said that it had received many celebrity contributions but would not disclose the donors' names for confidentiality reasons.
At one of the attempt to complete the challenge two fire fighter's were seriously injured in Campbellsville, Ky., while helping the student band at Campbellsville University participate in the challenge. They were in a ladder truck above the students when they came into contact with an electrical line.
ALS ICE BUCKET CHALLENGE is now a sensation a GOOD sensation towards the cure for the society.
HARSHVARDHAN SINGH.