It's the Spirit of Mumbai, people keep saying whenever they talk about Mumbai. I always thought to myself what that really meant. Recently I came across this facebook post by a connect who narrated how an Uber Driver Exemplified the Spirit of Mumbai in a touching story about humanity, life and mumbai.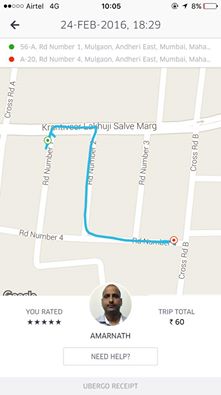 As narrated:
Last week I was in Mumbai for a couple of days. I have heard a lot of nice things about the people of Mumbai but got to experience it first hand this time.
I had to reach Mumbai international airport by 8 PM. As my office is just 6 kms from the airport, and being unaware of the Mumbai traffic, I called for an Uber at 6:30 PM. At 7:30 PM I was still 5 kms away from the airport with no sign of traffic jam opening anytime soon. So I decided to sprint to the airport. I asked my Uber driver to end the trip, took my luggage and started running towards the airport. 
15 minutes later I had finally managed to come out of the traffic jam. I was now frantically looking for an auto or a cab but couldn't find any. Dejectedly I started running towards the airport again when I heard a familiar voice calling 'sahab, sahab' ('sir, sir'). I turned to see the same Uber driver standing at the junction asking me to come in his cab. I dashed towards it and minutes later we were on our way to the airport. It was only when I sat inside that I realised I had not called for the Uber so he won't get paid by the company. As if reading my thoughts he said, 'I was worried that you might miss your flight. Flight tickets are very expensive. I somehow managed to come out of the jam and was moving slowly towards the airport looking for you.'
He could have accepted another ride after ending the trip and made some money. Instead, he decided to help a stranger. He even refused to take money from me after he dropped me at the airport and I had to force him to keep that. He did not have to do any of this. Yet he did. Probably that's what people mean when they talk about the spirit of Mumbai.
Thank you Mr. Amarnath. Thank you Uber. Thank you Mumbai.
#Mumbai‬ #Uber‬ #Humanity‬
Share this post with everyone and give them a glimpse of what Mumbai is made of!