You have finally shopped for a stunning outfit for your Big day!And you wish to look picture perfect and want every eye admiring your dazzling beauty! But how can you not focus much on accessorizing?
Follow some simple tips to help you accessorize confidently:-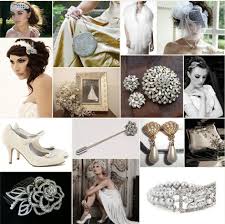 Just remember the first rule inwedding jewelry: Don't overdo it. It's tempting to load up onbaubles and bling, but you don't want all those precious metals to outshine you on the big day. Follow these four simple steps and you'll look like royalty without looking like you've raided the queen's closet.
Match your metals to your dress: Knowing what type of metal will work with your wedding dress's shade of white is a good way to begin choosing your wedding jewelry.
White Gown: Gold embellishments may clash with this bright white hue. We suggest sticking to pearl and platinum.   Diamond-white Gown: This barely off-white color works with gold and silver (and rose gold, and pearl — you get the idea).
Ivory Gown: This candlelight shade is a soft, light white, and some versions even have yellow undertones. Adorn yourself with gold jewelry to highlight the creamy tint of the fabric.
Don't forget about your decolletage: Pairing your neckline style with the proper adornment can add character to your wedding gown, or even highlight a unique feature.
Sweetheart or Strapless: For something a little different, skip the necklace, and focus on some great chandelier earrings instead. Wear clear crystal for a sleek look, or punch it up with a hint of color. Try using a meaningful gem like your birthstone, or pick a color from the flowers in your bridal bouquet (but not from the embellishments on your gown — you don't want to match too much).
If you're going for a flirty, fresh look, include two or three small fresh or silk flowers in your hair to add a soft, organic feel. Vintage elegance more your style? Pay homage to the past with a great Art Deco-style bracelet or some roaring '20s-inspired feather barrettes.
Knot Note: If your dress already has vintage flair, you could create an interesting contrast by taking a more modern approach with your wedding jewelry.
V-neck: Whether you opt for a pendant or choker, this style begs for decolletage decoration. A thin chain with a simple pendant is an elegant way to accessorize, while pearls (single- or double-stranded) exude classic charm. If you're going for the dare-to-be-decadent look, a crystal choker with matching earrings could be the perfect combo.
Halter or Reverse Halter: Whether you wear your hair in a sleek bun or loose ponytail, dressing up your tresses is a great way to accessorize a halter gown. Headbands are a great way to add panache to your wedding updo. But if headbands aren't quite your style, try adding some sparkle to your hair with intricate crystal hairpins.
If you've got a curly mane, five to seven hairpins is just right, while brides with thinner locks (or short hair) will get the same shine with two or three pins.
When in doubt, stick to the basics: If deciding on your jewels is proving more difficult than finding the gown, there's one jewelry duo that's timeless: Pair diamond (or CZ) drop-earrings with a sophisticated necklace, such as a strand of pearls or a diamond pendant choker (or a tennis bracelet for halter gowns).
Be yourself: The most important thing about picking the perfect trinkets for your wedding gown is that they are a reflection of you. If you're not comfy wearing big chandelier earrings, stick to studs. Love the way you look in a lariat necklace? Go for it! But make sure you are all comfy!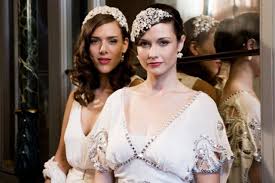 -MISBAAH MANSURI