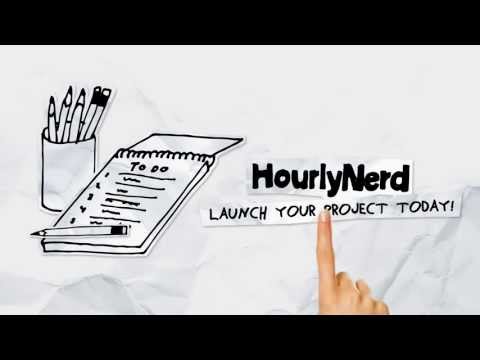 HourlyNerd is connecting enterprises to the MBA students at a fair price. Ok, let me elaborate. HourlyNerd is a website where businesses can hire MBA students as part-time business consultants.
What makes it different from other consultancy firms is that they provide businesses with expertise of the ideal person plus exact skill set required. Not only they provide MBA students but also their technology that leverages to work remotely. 
HourlyNerd started as a class project  Rob Biederman, Peter Maglathlin, Patrick Petitti and Joe Miller in February 2013. It started when they took a note that there were many students around them who had valuable skills and knowledge to offer, but no jobs. At the same time, they realized that small businesses, which cannot afford to hire a full-time MBA or top-level consulting firm, can be benefited from this insight.
The Boston-based-startup started temporary-staffing that matches well-educated business consultants with companies that need them. They literally knocked the doors of hundreds of small businesses. Some ignored or did not trust them while some thought that they would get great benefit from this.
The site was releasing in February 2013 on GoDaddy that costed them around $10. They believed that it could be a viable business when they received a request  from the developer of an Australian prepaid mobile phone application and were able to match him with a consultant who had previously worked with Verizon. For $2,500, he would be able to give hard-won insight that would have cost many times more from a consulting firm.
Today there are roughly 5,400 MBAs on the HourlyNerd platform. To bid on projects, consultants must come from one of the top 40 MBA programs, as ranked by U.S. News & World Report and other college lists. HourlyNerd receives 15 percent of the project fee from the hiring company, while the nerds take 5 percent for their end. Company estimate that companies save roughly 90 percent with their service compared to hiring a consulting firm.
HourlyNerd had received $750,000 in venture funding by September, and raised a $4 million Series A with investments from Highland Capital Partners and Greylock Partners. Dallas Mavericks owner Mark Cuban is also an investor. The company is now using this funds for marketing, technology and creating an algorithm to find the best MBAs for each project.
-Vatsal Doshi
The following two tabs change content below.
I'm a guy who loves to learn as long as I like it. Else than that, I like to blog, play games, listen to music and make new friends. Passionate about football. My motto- "Spread happiness as it's free of cost!" 🙂