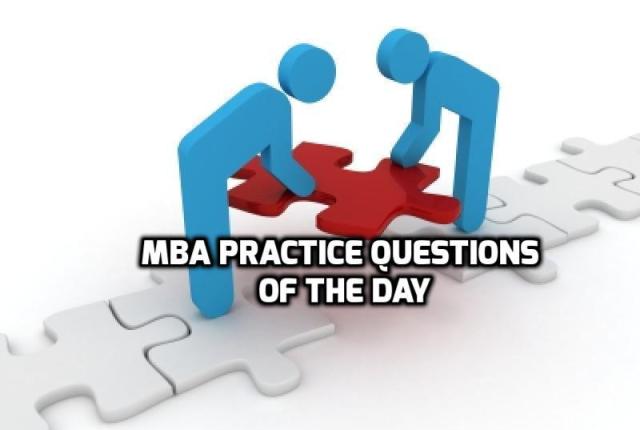 If you are looking for questions to prepare for the MBA competitive exams, our free practice test questions with solutions will help you to score higher.
Here we present MBA Practice Questions Of The Day – Alphabet Series:
Which of the following will come next in the series?
I) AUD, BSF, DPH, GLJ, KGL,…
1) PZM, 2) OAN,3)OBL, 4) PAN, 5) PZN
II) DEF, HIJ, MNO,…
1) STU, 2) RST, 3) RTU, 4) SRQ, 5) TUV
III) DCXW, FEVU, HGTS,..?
1) LKPO, 2) ABYZ, 3) JIRQ, 4) LNRS, 5) None of these
IV) CD, FGH, JKLM, ? UVWXYZ
1) MNOPQ, 2) NOPQR, 3) OPQRS, 4) PQRST, 5) None of these
V) ABP, CDQ, EFR
1) GHS, 2) GHT, 3) HGS, 4) GHR, 5) None of these
Answers:
I) The first letters of the successive terms are got by moving the first letters of the previous terms by one, two, three, four steps forward respectively. Similarly, the second letters are got moving backward the second letter of the previous term by one, two, three and four steps respectively. The third letter of one term is moved two steps forward to get the third letter of the next term. So the answer is 4)
II) All the letters are moved four, five and six steps forward to get the successive terms. So the answer is 1)
III) The first and second letters move two steps forward while third and fourth letters move two steps backward. So the answer is 3)
IV) Every term begins with its first letter got by moving the last letter of the previous term two steps forward and all the others are in alphabetical order. So the answer is 3)
V) The first two letters of the successive terms are got by moving forward the two letters of the previous term by two steps and the third is got by moving one step forward. So the answer is 1)