I'm sure it has happened to most of us that we get up an hour or so later then we are supposed to for work,college or be it anything else.We are running so late all panic-stricken!
On mornings like these, it's essential to wear a minimal amount of makeup – a look you can achieve in five minutes or less. Atleast so that you don't look like a sleepy head and look pretty always! If you are trying to get to work or class on time and don't want to look like you just rolled out of bed (even though you did), here is a quick routine that will save you.
You'll need:
– Primer
– Foundation and/or concealer
– Eyeliner
– Shimmery white eye shadow
– Mascara
– Blush
– Lip gloss
Instructions:
Before you begin application, quickly wash your face with a gentle cleanser and moisturize to give your skin a refreshed base:
1) Skin Prep. 2 minutes.
a. Take primer and apply with either fingertips or beauty blender.
b. Completely cover the face.
c. Take foundation and with finger tips, apply only where needed. If you are like us, you will apply all over face to add balance.
2) Eyelids. 1 minute.
a. Apply eye pencil to the outer corner of the eye only.
b. With eye shadow, apply to the inner corner of the eye, then dot on center of eyelid and under eyebrow arch. This will easily brighten up your eyes.
3) Eyelashes. 1 minute.
a. With mascara, apply one light stroke on the inner lashes.
b. Apply extra strokes on the outer lashes.
4) Cheeks. 30 seconds: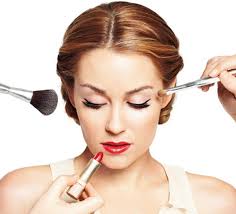 a. Apply powder blush to the apples of the cheeks, keeping most of the product on the high part of the cheekbones.
b. Blend up toward hairline, then down, swirling the brush to blend.
5) Lips. 15 seconds.
a. With lip gloss, apply throughout lips to add youth and shine.
-MISBAAH MANSURI
The following two tabs change content below.
Latest posts by Riya Lokhande (see all)