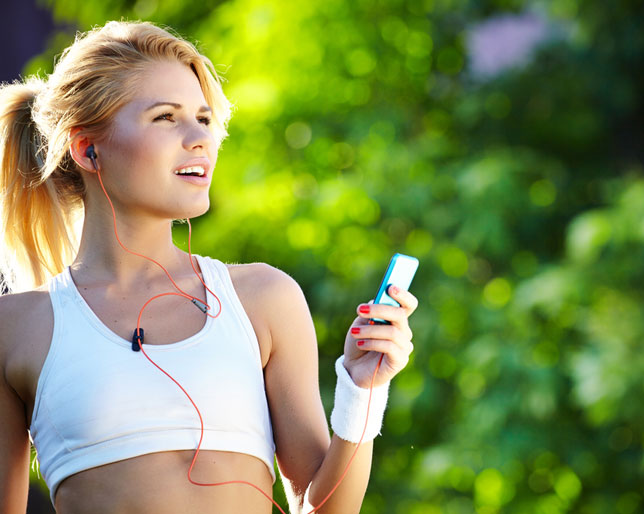 It was Saturday morning cardio exercise meant to stretching those muscles. No one was counting the laps. Yet it dint helped 'DJ' at this particular New Panvel (E) sport fitness club belt out Mr. Kishore kumar's songs, alternating it with Honey Singh DJ mix. Whether it a lap in 25 meter pool or weight repeats at an indoor gym, music is synonymous with workouts. But are we doing this right? More importantly, should we do it at all?
Music helps with Extra set
A study conducted on the subject at Brunel University found that in competitions, where athletes are closely matched to each other music has the potential to elicit a small, but significant effect, on performance. Music can as many of us will agree, divert mind from sensations of fatigue and egg you on to pump weights for an extra set.
Panvel based school fitness professional Mr. Arun Patil agrees that Patil trains his clients indoor and outdoor, and often lets clients choose their own music songs- rock category songs "which helps them to push harder" he says. However when he's meeting his client outdoors for functional workout, ambient sounds take over "I can't let my client to wear headphones since I needed to speak to them. Inside the volume is too high enough for them to move in rhythm, but low enough for us to hear each other," Mr. Patil adds
Runner needs to be cautious
While his caller tune is a pumped up number, fitness trainer Santosh Nair, who runs a academy Near Kharghar, is not a big fan of playing songs when training Nair who has been running for 5 year says he has tried plugging in but found having to carry an iPod is inconvenient. But I know that music helps a lot of runners especially who are running for long distances like 15 Km" he says. Running long distance is not just a physical but it is an also a mind game. It can be monotonous. After a point, body goes on auto pilot. At such times music can pep you up," he adds its habit you have to cultivate with a caution. Even at 5:30 am in the morning streets are busy with traffics and many new vehicle learners are on to the streets. Not hearing   approaching vehicle will put you on the risk of an accident. As it's a habit of all plating music at an high sound level, its okay on to an empty footpath but when running on, it's best to avoid music."
Playing tunes while yoga workouts   
Yes music isn't a necessity for all workouts. In fact some practiced in silence. Say yoga trainer Music is use at a minimally during yoga sessions. They are used to play Om chants or other spiritual music that too in the last five minutes of the classes. It's to help people focus. Beginners are unable to control their during Shavasana. Playing chants help them to slip in to a meditative state of mind. Experienced students don't need the help of music in their yoga sessions.
Nina Kraus, a professor of neurobiology at Northwestern University in Illinois, who studied the effects of music on nervous system, has said: "Humans and songbirds are the only creatures that automatically feel the beat of a song… our bodies are made to moved by music and move to it."
By JAY SHANKAR R. NAIR