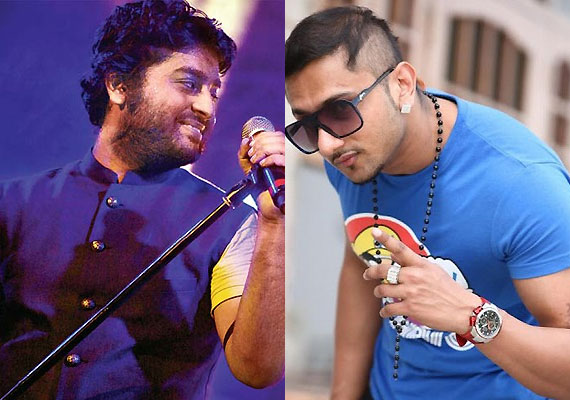 Bollywood industry has been bitten by the 'tried n tested rule' bug and this time film-makers are not overdoing with casting or repeating actors in their movies.
The industry these days is promoting only those singers, who have a high fan base. There were times when movie makers would have some type-casted jodis like, Govinda-Karisma, Govinda-Raveena, Akshay-Shilpa, Shah Rukh Khan-Kajol, and the most famous of all Rajesh Khanna-Sharmila Tagore in every second released flick.
People felt connected to these stars and loved to seem them being paired, seeing this producers would try every possible way to cash in moolahs; even if it meant repeating the same jodi in every second movie.
It seems the wheel of life has turned back again and Bollywood industry is now caught up with the acts of past.
Ever since Rohit Shetty struck gold with Honey Singh's 'Lungi Dance' for his hit Chennai Express, there had been a whirl of wind and every second movie, which was released in last 2 years had at least one song by the composer.

Honey Singh had gone up to give some hit tracks for Akshay Kumar's 'Khiladhi 786' & 'Boss', Deepika Padukone's 'Cocktail', Ajay Devgn's 'Son of Sardaar', Sunny Leone's 'Ragini MMS 2'; even Amitabh Bachchan's 'Bhootnath Returns' couldn't manage a release without the 'Party With The Bhoothnath' sung by Honey Singh. 
As the fad continued with giving Bollywood some head-up & peppy tracks, there was a sudden halt to continuation thanks to Arijit Singh's 'Tum Hi Ho' from 'Aashiqui 2', which garnered worldwide acclaim.
Bollywood's music industry got inclined towards soft romantic numbers, which surprisingly struck a great cord with Indian music fans across the globe.
Arijit Singh whose back to back track has won him not only admiration but numerous accolades has now fetched the soaring position from Honey Singh, who at one point was the ruling king of Bollywood music.
The singer has gone up to give some popular tracks in past years like, 'Phir Mohabbat' from Murder 2, 'Jo Bheji thi Duaa' from Shanghai, 'Tum Hi Ho' from Aashiqui 2, 'Dilliwaali Girlfriend' from Yeh Jawaani Hai Deewani, 'Main Rang Sharbaton Ka' from Phata Poster Nikhla Hero, 'Kabhi Jo Baadal Barse' from Jackpot, 'Suno Na Sangemarmar' from Youngistaan, 'Muskurane' from City Lights, 'Aaj Phir Tumpe Pyaar Aya Hai' from Hate Story 2 and many more.
BY HARSHVARDHAN SINGH.