So the World Cup is over and it was as exciting as no one would have expected, Germany won it and were a well-deserved winners. Since the World Cup is over and will have to wait 4 years for the next one in Russia, we can enjoy the league football in Europe which will start next month. The victory of Germany came in by a goal from Gotze in 112th minute, what a moment which the Football world will remember forever, after relishing such a great moment, let us have a look at some of the greatest moments in the FIFA World Cup history.
South Korea's unbelievable run
The World Cup was held in Korea-Japan, this world cup was won by Brazil but this world cup will also be remembered forever especially in the memories of South Koreans. Korea had defeated Italy in the second round, in a heated, controversial match and that was a start of the great run, led by Ji Sung Park, South Korea went till the semis and gave home nation a huge pride.
Portugal vs Holland series of cards
It was World Cup 2006 Germany where Netherlands and Portugal were fighting out in the knockout stages. This match had a flurry of yellow and red cards and both team ended the game with 9 men. This was a game where there were 16 Yellow Cards and 4 Red Cards.
Maradona's Hand of God
In the quarter finals of 1986 World Cup against England Diego Maradona scored one of the most controversial goals in the World Cup history which helped them go in the next round. This goal was dubbed as the hand of God as Maradona scored the goal with his hand.
Maradona'sgreatest Goal
The same game where Maradona scored with his hand against England also had one of the greatest goals ever which showed why Maradona is called one of the bests of all time. He dribbled past English players from half way and took the ball all the way to Goal.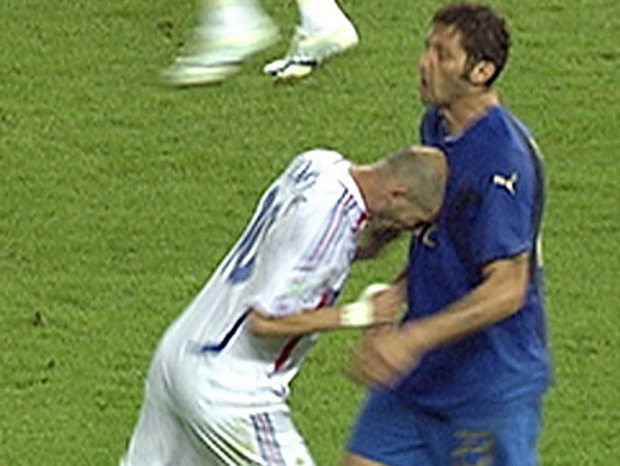 Zidane's headbutt
One of the greatest midfielders in the world, he was the player who had carried the French team to the Finals of the 2006 World Cup against Italy. The game was heading towards penalties with 1-1 scoreline and an unbelievable incident happened.Zidanehit Italian defender Materazzi in the chest by his head. This was a incident which happened due to some verbal comments by Materazzi. It was Zidane's last game ever and Italy went on to win the World Cup.
– Jainam Jhaveri