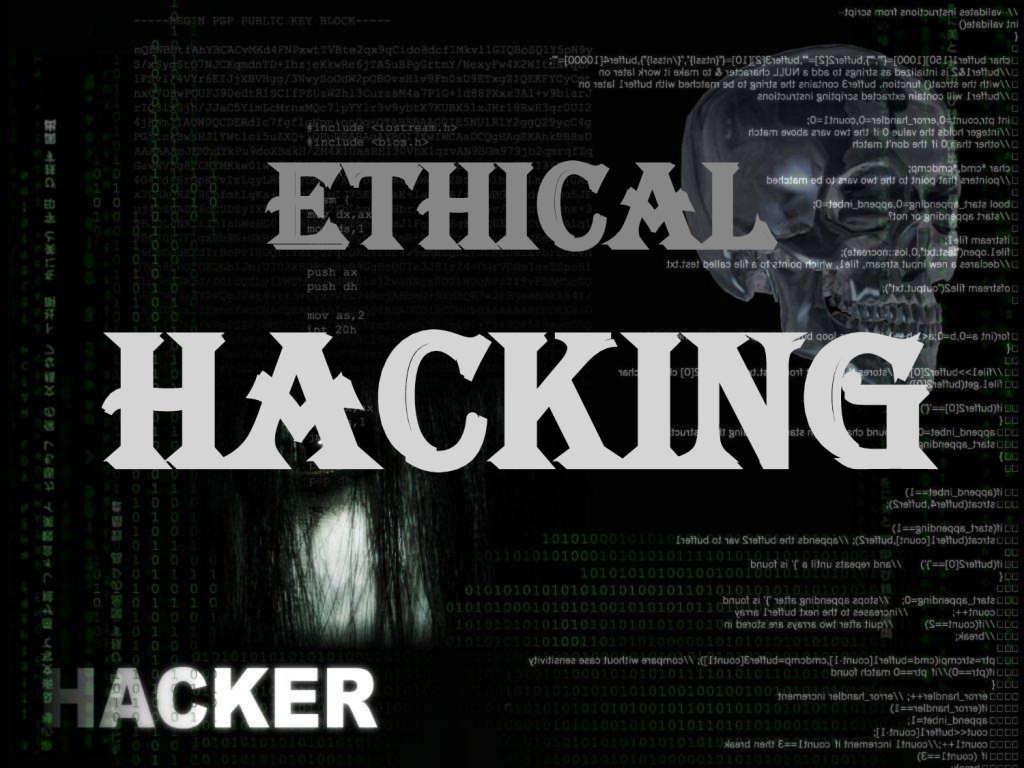 There are two types of Hacking one which is basically breaking into systems you're not authorized to and other is what we call "Ethical Hacking" which means hacking with legal permissions.
What is Ethical Hacking actually?
Ethical hacking is basically a term used by common people, experts define it as penetration testing, intrusion testing or red teaming these scientific words may not sound so cool but Ethical Hacking does.
The need for Ethical hacking
According to a report published in a leading Indian newspaper- A data generated from internet live stats shows that more than 24 Crore Indians access the internet and the number is growing rapidly every year. India faces about 1200 cyber attacks a month and globally the number has crossed 1.25 Lac in just one quarter of 2013 and the losses occurred due to it are just unimaginable. India is the 5th most cyber crime affected country in the world. According to data from National Association of Software and Service companies (NASSCOM),India will need around  5 Lac security professionals while right now we just have around 40,000and there are only 556 trained cyber security personnel in the government as per KPMG estimates.
What exactly is the work of an Ethical Hacker?
An Ethical hacker is a computer and networking expert who attacks a security system on behalf of his organization and identify the loopholes that a hacker could exploit and fix them, actually they do what the hackers do but they do for an opposite purpose that is to increase the safety of computer systems and protect confidential and private data of the organization. An Ethical Hacker has to be always one step ahead of Hacker.
How to Become an Ethical Hacker?
In India there are not many institutes offering courses in Ethical Hacking or Cyber security but students who have completed Btech, Bsc ,Bca are eligible to become an Ethical hacker since knowledge about computers and internet is the foremost requirement in this field. They must be well versed with programming languages such as C,C++,Python , Java, Ruby etc. A certification Certified Ethical Hacker(CEH) is provided by the International Council of Electronic Commerce Consultants (EC COUNCIL),while many other certifications are provide by private institutes in India like CCNA,SCNS,SCNP,CISSP offered by international system security certification consortium and SANS institute in USA are also well known.
Skills required to become an Ethical Hacker
Must be a computer and gadget savvy

Analytical thinking, problem solving ability, investigating nature

Should be able to adapt quickly , as while testing systems an ethical hacker would never know what's going to come up so the ability to be resourceful is vital

Excellent knowledge about computer hardware, software and programming is a must

Should update himself with skills to tackle new challenges and should be flexible with latest technology

Above all he/she must be a Certified Ethical Hacker and must be trained.
Job Prospectus and Remuneration
With the increasing usage of internet Ethical hacking has become an important part of IT industry today, currently there is a huge gap between demand and supply and hence there is lucrative scope in India as well as abroad and offers a plethora of  job opportunities. This is one kind of field where there is no question of recession since the demand is more than 10 times of current supply.
A fresher in this field can earn a minimum of 2to2.5 Lac per annum. He/she would need to intern or work as trainee to sharpen the skills till they can start on their own, with experience one can expect around 4.5 Lac per annum, those with more than 5 years of experience can expect around 10to12 Lac per annum, one can also freelance and work on a contract basis in which the payment can be higher.