An event company is like the world. It is no different; it is just larger than life for it includes people from various walks of life. The amount of time, money and energy; invested in the making of an event is nearly as equal as and sometimes more than those of a company chasing monthly profits per several units. The purpose of an event company's endeavors is just not limited to ridiculously earn profits. The purpose is to bring the spark of connectivity between the attendees of the event and its organizers, the purpose is to attain a healthy interaction, the purpose is to lift the spirits of stakeholders to that level of experience that it remains memorable forever and of course the remaining purpose is of earning some bucks out if it.
So many visions of an event company! So many people involved! So many exchanges of emotions! So many bifurcations! And so many benefits! Yes! These are the benefits of working in an event company. No matter at what level and in which department you are operating in, there are benefits of being a part of the making of an event, as follows: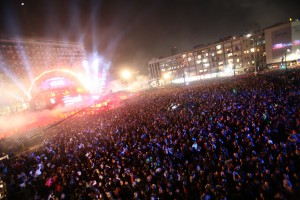 1. Here, you are not alone
Unlike being confined in a cubicle, an event company's office and sites are like wander-lands. You can bump into anybody to know about any doubts or to learn anything. You always have someone to guide you because; everyone bears the knowledge of running an event as everyone runs on the same pathway, to reach the same destination of bringing it out live.
 2. You turn into a multidisciplinary
Over a quality time spent in making events, you gain knowledge and skills from all those around you. These could include learning negotiating skills, required while dealing with Vodafone's marketing officer in case of sponsorships as well as negotiating skills required at the Dadar's phool-market by the station. Organizing an event does counter the saying "Jack of all trades and master of none" and turns it into "Master of all trades and jack of none".
 3. The Team Spirit
No matter how awesome people are in their own skill-sets and their own areas, and no matter how ambitious, they still invite you to be a part of the task at hand. Not because, they want to simply lay off the work and shift it to your shoulders but, just because you want to learn. The whole transference can be reversed. If you are not well and cannot make it to the site or office, there's always someone to play your role.
Make sure you join an event company with the best intentions of learning and working hard for working hard and learning are the most basic, common and required qualities in every job-seeker. Don't ponder on the kind of job profile you might get after entering into the events industry because it is simply like the world. Enjoy every bit of it.
And well, there are several other benefits too of working in an event which will be followed by a sequel-article.