The world is a tragedy to those who feel, but a comedy to those who think. These comedians make us laugh; they lighten up the most dull moments and make everyone forget all the tragedies and sorrows. "Laughter is a best medicine", this is the quote that they live by and help people forget their tensions. So here is an article as an tribute to these noble men who despite of problems and tensions in their lives, never forget to bring a smile on our faces.

Jim Carrey- 
James Eugene "Jim" Carrey is a Canadian, American actor, comedian, impressionist, screenwriter, and producer. Carrey has received two Golden globe award. Known for his highly energetic slapstick performances, he has been described as one of the biggest movie stars in Hollywood.

Zack Galifianakis- 
Zachary Knight "Zach" Galifianakisis an American stand-up comedian and actor, known for his film and television appearances including his own comedy central presenter special. He is also known for his role as Alan Garner in the hangover trilogy, as well as for his roles in the films Dus date, The Campaign and Birdman.
Jonah Hill Feldstein better known as Jonah Hill, is an American actor, filmmaker, and comedian. He is a two-time Academy award nominee, for his performances in the films Moneyball and The wolf of the wall street. He is also known for his roles in many films like 21 and 22 jump street, Accepted etc.
Robin McLaurin Williams was an American  actor and comedian. Starting as a standup comedian in San Fransisco and Los Angeles in the mid-1970s, he is credited with leading San Francisco's comedy renaissance. After rising to fame as Mork in Mork and Mindy, Williams went on to establish a career in both stand-up comedy and feature film acting.
Edward Regan "Eddie" Murphy is an American comedian, actor, writer, singer, and director. Box-office takes from Murphy's films make him the 4th-highest grossing actor in the United States. He was a regular cast member on Saturday night live from and has worked as a stand-up comedian. He was ranked no. 10 on Comedy central's list of the 100 Greatest Stand-ups of All Time.
Adam Sandler-
Adam Richard Sandler is an American actor, comedian, screenwriter, entrepreneur, film producer, and musician. After becoming a Saturday night live cast member, Sandler went on to star in many Hollywood feature films that combined have grossed over $2 billion at the box office. He is best known for his comedic roles, such as in the films Billy Madison, Happy Gilmore, The wedding singer, etc.
Stephen Glenn "Steve" Martin is an American comedian, actor, musician, writer, producer and voice actor. In the 1970s, Martin performed his offbeat, absurdest comedy routines before packed houses on national tours. Since the 1980s, having branched away from standup comedy, Martin has become a successful actor, eventually earning him an Emmy, Grammy and American awards, among other honors.
Bill Murray-
William James "Bill" Murray is an American actor and comedian. He first gained exposure on Saturday night live for which he earned an Emmy awards and later went on to star in comedy films, including Meatballs, Caddyshack, Strips, Ghostbusters, What about Bob?, and Groundhog.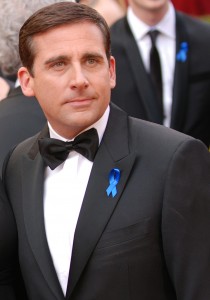 Steve Carell-
Steven John "Steve" Carell is an American actor, comedian, director, producer, and writer. After a five-year stint on The daily show with Jon stewart, Carell found greater fame for playing Michael scott on the American version of The Office. He has also starred in lead roles in the films, The 40 year old virgin, Little miss sunshine,Evan Almighty, Dan in real life, Get Smart etc.
Jack Black-
Thomas Jacob "Jack" Black is an American actor, producer, comedian, and singer. His acting career has been extensive, starring primarily in comedy films. He is best known for his roles in High Fidelity, Shallow Hal, School of Rock, King Kong and the Kung Fu Panda films. Black is considered a member of the so-called Frat Pack, a loose grouping of comic actors who have appeared together from an early age in various Hollywood films.
Thank you!!!