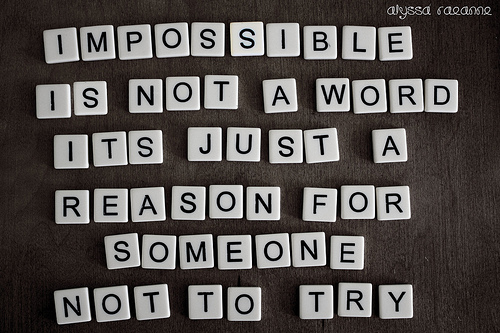 Napoleon Bonaparte, the greatest leader of all times have always said and believed "The Word Impossible is ' a word to be found in the dictionary of fools' ". Rightly said by Napoleon, the word impossible too has I'M POSSIBLE, yes this universe is full of positivity and every thing here is possible only if we remain determined, I have always remembered my Mom saying this I'M+POSSIBLE to me, when i used to feel low and depressed. Impossible is the word for the fools and cynical people, who declare failure without trying hard and letting the sweat burn off! Fools aren't the dump fellows but the coward people who don't try to achieve their dream and overcome their odds and hindrances.
The major example of impossibility turning its words into possible is the recent Mangalyan- The Mars Orbiter Mission, that the ISRO- Indian Space Research Organization. The Indian Scientist of ISRO are being trying the operation from the year of 2013, November 05, the Mangalyan was launched and declared success on September 24, 2014. The ISRO, proved their determination and did the impossible for Japan and China like countries. Other than the Mangalyan operation their are many public figures and personality who have let the impossible make possible. Sudha Candran, the famous dancer and actors whom we all have seen in television has always been one of my inspirational model, she who in an accident lost one of her legs, defeated all odds by using the operational or preciously plasticized leg and is living her life with almost happiness and the respect and applause which wouldn't have come her way, If she hadn't being determined and confident.
We all have hopes in our hearts, that we should have or be  a Role Model for persons- our society, the public, our friends and to the world, it's not difficult. Firstly, overcome your odds of life, with almost confidence and positivity- Then serve the world, as we say charity begins at home, so lets bring the change in oneself, list out all the impossible of your life, try to make it happen and make it possible, we see a small child he falls when he tries to walk for the first time but does he stop when he falls after an unsuccessful try ?? NO he still tries his best to get up and walk. Then why are we so fragile or sad when we face a unimagined and bad situation. The child child never stops getting up because of his excitement and positivity, So we might face a lot of failure but don't be a fool and say its IMPOSSIBLE.
Because, it is said that when one is determined to do work with the best of one's ability, his dedication becomes his motivating force and one automatically develops the ability to do away with the hindrances that is stopping him/her.
DON'T LET ANYONE TAKE YOU FOR GRANTED 
SHOW WHAT YOU ARE CAPABLE OF.
The following two tabs change content below.
writing any piece is not a talent but the skill that you can develop with years/months/days of hardwork
Latest posts by Nikhil pandey (see all)