"Money may not bring you happiness, but I'd prefer crying in a Jaguar than a bus". This line is so apt for all the car lovers, who love speed and driving is their passion. Nothing gives them more happiness other than the comfort and fragrance of the lush seats of a luxurious car. So as cars take the first position in every boy's heart and also some girls, I came up with certain luxurious car brands which I would like to share with you guys. Ready, steady go….
Audi-
The company name is based on the Latin translation of the surname of the founder, August Horch, "Horch", meaning "listen" in German, becomes "Audi" in Latin. The four rings of the Audi logo each represent one of four car companies that came together to create Audi's predecessor company, Auto Union. Audi's slogan is Vorsprung durch Technik, meaning "Advantage through Technology". Audi AG is a German automobile manufacturer that designs, engineers, produces, markets and distributes luxury automobiles. Audi oversees worldwide operations from its headquarters in Ingolstadt, Bavaria, Germany. Audi-branded vehicles are produced in nine production facilities worldwide.
Mercedes-
Mercedes was a brand in the Daimler Motoren Gesellschaft (DMG) which began to develop in 1901, after the death of its co-founder, Gottlieb Daimler. Emil Jellinek was an Austrian diplomat based in Nice, ran a profitable business selling cars, and, as a racing enthusiast, had been racing DMG automobiles under the pseudonym Mercédès, after his daughter, Mercedes Jellinek. The name, Mercedes, later was used to represent DMG in another new brand name, Mercedes- Benz, created in 1926 when it was applied to all vehicles produced by the new company, Daimler-Benz AG, resulting from the merger of Benz & Cie and DMG in that year.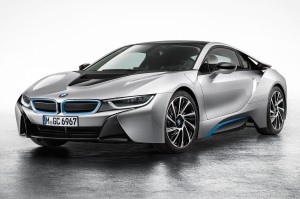 BMW-
Bayerische Motoren Werke AG, commonly known as BMW or BMW AG, is a German automobile, motorcycle and engine manufacturing company founded in 1916. BMW IS headquartered in Munich, Bavaria. It also owns and produces Mini cars, and is the parent company of Rolls-Royce Motor cars. BMW produces motorcycles under BMW Motorrad. In 2012, the BMW Group produced 1,845,186 automobiles and 117,109 motorcycles across all of its brands. BMW is part of the "German Big 3" luxury automakers, along with Audi and Mercedes-Benz, which are the three best-selling luxury automakers in the world.
Range Rover-
The Range Rover is a large luxury four wheel drive sport utility vehicle (SUV) produced by British car maker Land Rover, a subsidiary of Jaguar Land Rover, and serves as its flagship model. The model, launched in 1970, is now in its fourth generation. Land Rover has expanded the Range Rover model line to include two entirely different designs: the Range rover Evoque and the Range Rover sport that derive core styling, brand identity and breadth of capability from the current Range Rover model.
Volvo-
The Volvo Group is a Swedish multinational manufacturing company headquartered in Gottenberg. Its principal activity is the production, distribution and sale of trucks, buses and construction equipment. Volvo also supplies marine and industrial drive systems and financial services. Although the two firms are still often conflated, Volvo cars also based in Gothenburg, has been a totally separate company since it was sold off in 1999. The companies still share the Volvo logo and co-operate in running the Volvo Museum.
Jaguar-
Jaguar Cars is a brand of Jaguar Land Rover a British Multinational car manufacturer head-quartered in Whitley, Coventry, England, owned by Tata Motors since 2008.Jaguar was founded as the Swallow Sidecar Company in 1922, originally making motorcycle sidecars before developing passenger cars. The name was changed to Jaguar after World War II to avoid the unfavorable connotations of the SS initials. A merger with the British Motor Corporation followed in 1966, the resulting enlarged company now being renamed as British Motor Holdings (BMH) which in 1968 merged with Leyland Motor Corporation and became British Leyland itself to be nationalized in 1975.
Happy and safe driving!!
THANK YOU!!