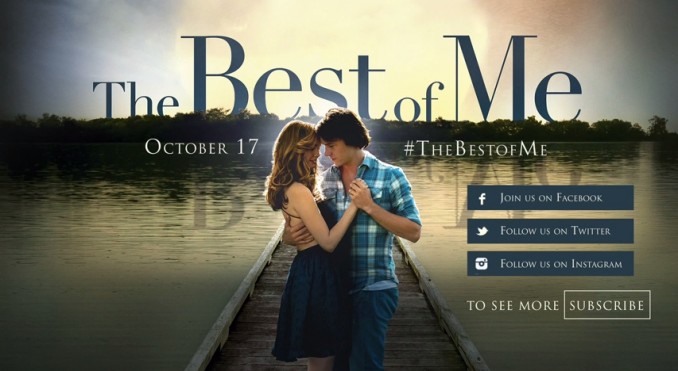 A ruggedly hunky guy toiling on a Louisiana oil rig decides to cuddle up with a thick Stephen Hawking book on his lunch break. We will soon hear him in a voiceover pondering his "destined path" in life while the stars sparkle in the sky as if a Swavorski crystal display exploded at the mall.
"Yeah, right," I found myself saying out loud. Little did I know that I should have saved that remark for the truly  ridiculous situations that were lying in wait during the rest of "The Best of Me."
Besides, at this point, there is little use going against the tide of tears wept in the name of the shamelessly swoony sob-a-paloozas based on the best-selling romantic novels of the wealthier-than-thou Nicholas Sparks.
As a moviegoer, however, you do have a choice. Either weep with them–or laugh at them. Or stay far, far away.
"The Best of Me," the ninth Sparks-based film, falls squarely in the mediocre category and makes 2004's "The Notebook" seem like "Casablanca." It revolves around a second chance at true love as high-school sweethearts are reunited after 20 years following the death of a mutual friend. The aforementioned hunk is Dawson (James Marsden), a loner of few words who scored 1520 on his SATs yet settled into a blue-collar job. At least it is an excuse to see what Marsden would look like as the construction worker in the Village People.
Amanda (Michelle Monaghan) is an upper-class housewife who dotes on her teen son and bitterly weeps over her crumbling marriage to a self-involved twerp who is an alcoholic, workaholic and all-around jerkaholic. She and Dawson both return to their hometown for the reading of a will of a man named Tuck. Soon they are riffling through the goodies of a fairy-tale cottage they have jointly inherited that is straight out of a Thomas Kincade painting, complete with oaks draped in Spanish moss, fields of rosy posies ripe for the picking and an old-fashioned  swimming hole.
Cue the flashback to 1992, even though it seems more like an Ozzie and Harriet episode, with its soda shop named Squeals, than the year when Nirvana's "Nevermind" topped the album charts and "Reservoir Dogs" was released. The teen Amanda (played by Liana Liberato) is an outspoken lawyer-wannabe rich girl with a very strange penchant for backless attire who pursues the withdrawn Dawson (Luke Bracey) in the most wholesome way possible. Sparks sparks eventually fly, including a requisite smooch in the rain, despite their desperate backgrounds and personalities.
Time for another "Yeah, right!" Complicating matters is that Dawson is a member of a notorious Cole clan of white-trash swamp-rat outlaws. They, too, appear to be from discordant time periods. Dawson's nasty redneck daddy, who can't keep his fists to himself, could be trying out as a member of the Barrow gang in Bonnie and Clyde. Meanwhile, his gap-toothed, mullet-headed hench brothers might be related to the meth-lab backwoods lowlifes in "Winter's Bone" by way of "Deliverance." Basically, these portions feel like an old SCTV skit that never made it on air.
However, the most distracting and near-fatal incongruity is the choice of Bracey as the younger Dawson. There is no way and no how that this actor would ever grow up to be Marsden. For one thing, he actually looks older. Not only that, he doesn't look, act or sound like him. What is even sillier is when Monaghan's Amanda makes the observation to Marsden's Dawson, as they find themselves falling for each other again, that "somehow you've gotten better looking." And she is, of course, right.
The one pleasant respite is whenever Gerald McRaney shows up in the flashbacks as Tuck, a gruff yet caring former military man and widower who becomes a second father to Dawson after he runs away from home. And pros that they are, Marsden and Monaghan make for a very pretty couple as they manage to stay committed to their characters, no matter what trite nonsense trickles out of their mouths.
At a certain point, though, the coincidences and tragic incidents start to pile up at a startling rate and nothing can be taken seriously. Not that you don't see these developments coming from miles away.
If a pediatric cancer charity is mentioned, a kid will end up having cancer.
If a parent hosting a fancy party asks his daughter's dirt-poor suitor to check out his collection of vintage cars, the door will soon be shown.
If someone is told to be careful behind the wheel, a car crash is not far behind
If a vehicle waits as the lights start to flash at a train crossing, something bad is about to occur.
And if a character reveals that they once had a drinking problem that is now under control, they will be shown popping a cork on a wine bottle for a cozy dinner for two in the very next scene and downing Budweisers (the official beer of rekindled affairs, apparently) while on a picnic.
No, that last bit doesn't make sense. But little of "The Best of Me" does.
HARSHVARDHAN SINGH.