BMS.co.in invites all BMS students to the Professional Career Counselling and Vocational Guidance Program.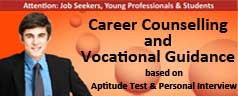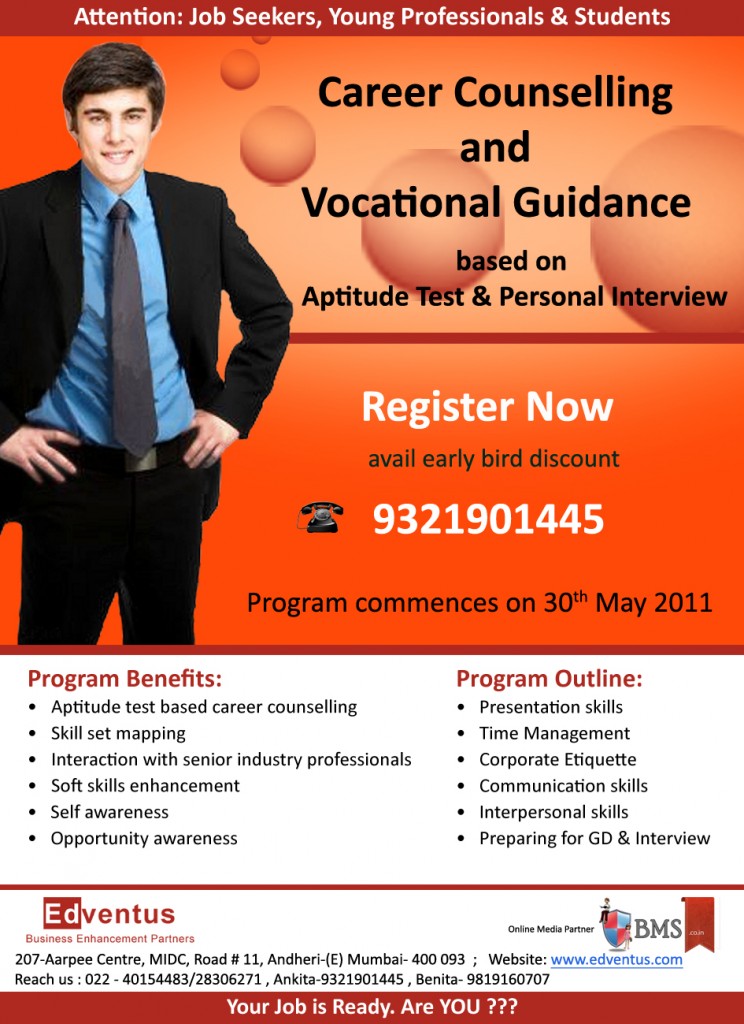 Edventus is organizing a professional career counseling and vocational guidance program to assist students & young professionals on opportunity awareness, self awareness and soft skill enhancement.
The program will cover:
Presentation skills
Communication skills
Corporate etiquette
Time management
Interpersonal skills
Preparing for GD & interview
Skill set mapping and career counselling
The program benefits:
Aptitude test based Career counselling
Skill set mapping
Interaction with seasoned industry professionals from Reliance Group, HDFC Bank, Syndicate Bank, Network 18, Future Group, Sharekhan etc.
Soft skills enhancement
Self awareness
Opportunity awareness
Placement assistance will be provided to all participants.
About the facilitator:
Benita Dua is a training consultant and educator with over 10 years of experience in teaching and corporate relations. An MBA in marketing, Benita has successfully designed and delivered seminars and workshops on various aspects of soft skills.
She has trained people on effective presentations, communications, negotiations, gossip management, reporting, corporate etiquettes, corporate grooming, dining etiquettes, creativity in workspace and other relevant soft skills. She recently concluded a workshop on "Job readiness" for management students and gave a seminar on "Effective PowerPoint Presentations" at KES College, Mumbai. Besides these she has conducted several workshops on various topics to employees of renowned corporates.
Other Features:
Certification upon completion of course
Upon registration for the course, participants will become automatic recipient of regular newsletters and assistance from expert trainers for their professional growth for one year from Edventus
Free Lunch, Tea/Coffee during the program
Professional Fees INR 6000 (inclusive of Service Tax)
Special Offers and Group Discounts available
Workshop Venue & Date
106, Aarpee Centre, MIDC, Road # 11, Andheri (E), Mumbai – 400 093
Date – 30th May 2011