Hercules is no stranger to the big screen. In fact, this is the second film starring the son of Zeus this year. The difference is, this one doesn't make you want to gouge your eyes out. Directed by Brett Ratner and starring Dwayne "The Rock" Johnson, Hercules is a straightforward sword-and-sandal flick that does exactly what it needs to do. Is it going to blow your mind? No, but it'll entertain you.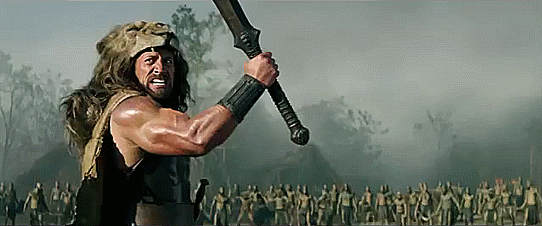 We're all familiar with the legend of Hercules (Dwayne Johnson); the son of Zeus and the mortal Alcmene, his strength and prowess are second to none. After enduring his now legendary twelve labors, Hercules makes his living as a sellsword, offering his services to those who can pay for it. His greatest test, however, doesn't come in the form of a giant mythical beast, but in a mission to save Thrace from a dangerous warlord.
On the surface, Hercules seems like just another retelling of the classic tale, but screenwriters Ryan Condal and Evan Spiliotopoulos have found a new way to spin the story, and it surprisingly works. The legend of Hercules may not be what we actually think it is; but rather a series of embellished stories crafted to elicit fear in all those who dare to oppose him.
But the real reason the film works isn't because of the story or Brett Ratner's direction (which is pretty mediocre); it's Dwayne Johnson. His performance as Hercules is extremely earnest, and he's an immensely likable and believable action hero. His physicality is also very imposing; his triceps are literally as big as my thighs. The film rests on his shoulders, and he carries it all the way through.
Thankfully, he's also accompanied by a strong supporting cast. Ian McShane and Rufus Sewell provide some great comic relief, and some added gravitas to boot. Relative unknowns like Ingrid Bolsø Berdal, Aksel Hennie, and Reece Ritchie are also very likable, and round out the rest of Hercules' loyal band of misfits. And John Hurt is as reliable as ever as Lord Cotys of Thrace. The great cast elevates what is often some pretty clumsy dialogue, and while Brett Ratner's direction isn't the most inspired stuff out there, it's adequate enough, and the action scenes look pretty cool.
The Verdict:
As someone who doesn't particularly enjoy Brett Ratner movies, I must say I walked out of the theater feeling pleasantly surprised. Dwayne Johnson has really cemented himself as one of the best action stars working today, and he's the only reason you should even bother with Hercules. It's solid summer fun.
Numerical Score: 7/10
BY HARSHVARDHAN SINGH.