Happy New Year! Happy new technologies! 2014 was the year of one of the most unforgettable trends like Indian Elections 2014 (Narendra Modi drying out the Electronic Voting Machine!) , Fifa World Cup 2014 (Spain's negligible presence!) and other sporting events like Indian Super League 2014 (Staggering viewership of 429 M in India, which was even more than the World Cup's!). That's all? Wait up. There's something very important being missed out! 2014 was the year of awareness in innovations of the past. Industrial robots like 3D Printers and wearable technologies like Fitness Bands and Google Glass got popularised by leaps and bounds in 2014.
Well, we all know that bugs get fixed through subsequent consumption of products, along with slashing down of prices due to increase in competition. Then comes successive upgrades and the products go ubiquitous and mainstream. In the year 2015, let's see what innovations we have in store for us!
I. Industrial Robots
1. 3D Printers
Industrial Robots include various categorical products, made for popular industrial uses like welding and painting. But, the awestruck product among the industrial robots is nothing but a 3D Printer. A 3D Printer is simply a 3D model-maker. 3D Printers have been around for almost 30 years but what makes them noteworthy today, is their easy availability and wide array of variants based on size and material variability.  It lays down layers of materials under computer control, creating a tangible model. Now kids can create their own GIJOEs as well as architects can build elevated models in lesser time and labour with minimum errors.
Most affordable version: Peachy Printer, Cost: $100 to $150
II. Wearable Technology
2. Activity Trackers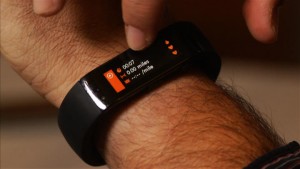 Activity trackers a. k. a. fitness bands perform three functions at a time. First: Tangibly, they are fashionable, with variants of different attractive colours and designs. Second: The equipment records your activity of walking / jogging and displays calories burnt, miles completed through LED.  And third is their most important and intangible use, the motivational one. It reminds us to beat our own fitness record by surpassing notched points, so you can get slimmer if slimming down is your goal and keep on building stamina.
Most affordable version: Xiaomi Mi Band, Cost: $34.99 to $44.99
3. Google Glass
Google glass is a beautiful concept. Google Glass is a type of wearable technology that comes with with an optical-head-mount-display (OHMD). Google Glass displays information in a smartphone-like hands-free format. Wearers of the technological piece communicate with the Internet thru natural language voice commands. Google started selling Google Glass to qualified "Glass Explorers" in the US on April 15, 2013, for a limited period for $1,500, before it became available to the public on May 15, 2014, for the same price, which means there is no most affordable version. However, Google is planning to bring out an upgraded version in 2015, which will have double the battery power as well as RAM.