Here WE go!!
TYBMS Sem 6 (Revised) Results 2011 has been declared on 29th July 2011 at 5pm in Mumbai University website .See the link – http://results.mu.ac.in/choose_nob.php?exam_id=1955&exam_year=2011&exam_month=MAR
The whole long wait around 3.5 months came to an end and students are now much relieved as majority of them have passed with First Class.
That's really a KOOL Achievement as this batch of TYBMS has faced a lot of problems, hurdles from the Mumbai University to name a few – changing the syllabus 1 month before, Projects grades getting converted into marks and what not "THE RESULTS NOT BEING DECLARED ON TIME" 
Phewwwwww…. enough was enough! Faced it all! Now it's the time to MOVE ON and START A WONDERFUL NEW JOURNEY!
So, now I can proudly say that YOU GUYS ARE GRADUATES ! 🙂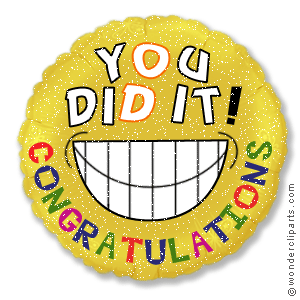 A proud moment for us as YOU were the first batch since www.BMS.co.in came into existence and I am sure we gonna get such wonderful Results in the coming years too.
Make us feel more proud by Achieving great heights in your life and lead a Successful life ahead! 
We BMS.co.in Team Congratulates YOU for your success and wishes ALL THE BEST for a GREAAAAAAAAT CAREEER AHEAD! 🙂
 P.S. If anyone wants to Thank us, please comment lolzzzzzzzzzzz 😉