Clothes That You Should Definitely Try Before Reaching 20!
Are you on the line to reach 20? Are you satisfied with your style? Have you never dreamt of wearing something totally out of your choice and taste? Well honestly speaking there is always a want in all of us to wear something really very unconventional and unpredictable and be the person in the crowd to and be the head-spinner center of attention. Don't you feel this thing? Life has reached a certain point where we are at 19 and soon going to turn 20…but why 20? Well I suppose it is said so because once you pass your third year, you have to always be in a professional attire of course, there are gonna be Sundays but it won't feel the same as it used to when we are in the college. Don't you think so?? Guys don't feel disheartened about leaving your college soon instead let's make our remaining time full of fun and joy, to load our memories fun times in college days. So what's the better way than by wearing all kinds of outfits..? So guys what you are waiting for let's begin with our checklist:
Maxi dress:-
These are surely very easily accessible items on the list but a little to pull. Tall girls are blessed with heights and so they can wear it by simply pulling it over but I think that God has given equal opportunities for petite girls also. Petite girls can also totally rock a maxi dress by choosing it as per their heights and by adjusting their natural waistline and girl you are good to go :p
Boots:-
I love boots (even though I don't own a pair), they are really cool item to try. Boots give us that chic look without being too dressy. They can sometimes be little intimidating by their rebellious looks but don't judge a book by its cover. Once you start wearing them you'll surly fall in love with them: D
 3. Crop tops:-
As soon as you enter linking road, you see the streets are filled with crop tops. Sometimes I do wonder why it is such a big hit? (Please answer me I would love to hear from you). Anyways back to our topic, crop tops length can depend on your comfort and there are plenty of options to chose from. If you are not getting your desired crop top, just go on YouTube and check for how to make a crop top. These can be worn as per your taste. You can wear one with a tank top below it or if you are very bold then you can wear it straight.
Ripped jeans and distressed jeans:-
Ripped jeans certainly won't suit in an office environment except for your holidays so better wear them as much as you want in your college days :p, they are very cool trend and you are also able to show a little skin without being too showy. Boyfriend jeans are also very unique and comfortable along with being very relaxed and stylish.
5. All types of skirts:-
Skirts are very comfortable and fancy all at the same time. There are days when you want to look different and are in no mood to wear denim. Here is where skirts come in picture. And the cherry on the cake, today the demand for variety has grown tremendously that designers are always on toes to create some unique designs specially to make you look different. Try skirts in all the different lengths, colors, textures for fun experimental looks. 
Hair color:-
This is indeed not an outfit but hair colors are also worn Na  :p. if you are from those who love dying your tresses then surely do as many wild greens and blues and reds before you join any organization. Have fun with your tresses.
7. Pop colored clothes:-
Walking down the streets you are always able to spot someone who has worn a bright colored outfit. We all know that bright colors add cheer to our faces and life but they surely make you feel intimidating and challenging. Always go for some neutral colors like blue, black brown when you decide to wear brightly lit colors.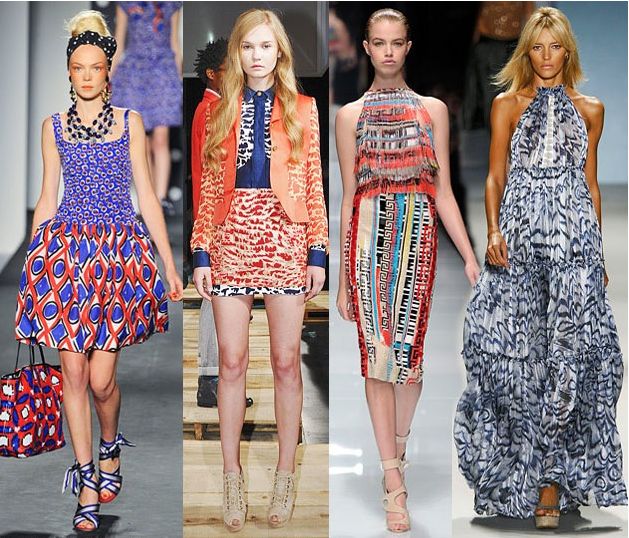 Wild prints:-
Floral prints, cheetah prints, plaids all these are very catchy and attractive if worn correctly. You can also wear them as a pro with few trial errors. The simplest tip to follow when wearing prints is mixing and matching their colors and pattern sizes. If you are going for the whole printed look then simply just wear a small print and the other large print so that they compliment each other.
These were few of  the clothes which you all should try or you can try what you love but do try them because once you cross your 40's there should be memories of you doing all crazy stuff telling your grand children proudly that you had tried everything possible for you. Have fun and live your each day as if it's your last day. 😀