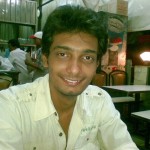 Name – Bhavik Boricha
Graduated BMS in the year – 2009
College – MCC
Currently working – In an MNC
Which company – Maersk Global Service Center, Mumbai
Tell us something about yourself
I am a "happy go lucky" kind of a person. I like making new friends, quite an extrovert as I would describe myself briefly.
Tell us something about your BMS college
I passed my degree from Mulund College of Commerce, Mulund. The college has some of the fiinest teaching faculty in the city who think out of the box to make students learn the modern way. They not only used to teach us, but also guide us with on various problems that we used to come across. With them being around, I, as a student, never faced any problems.
When did you join BMS? Which year you graduated BMS?
I had joined BMS in the year 2006, the last batch of students entering with their CCEE marks and I completed my degree in March, 2009.
How did you start your career? What was the first step after completing BMS?
After completing my BMS I took a break from studies (still in progress) 😉 and right now have started preparing for entrance exams of MMS. And as far as my job is concerned, it is just to keep me loaded until I get my admissions done. 😀
What are you doing currently?
Currently I am working with Maersk Global Service Center, Mumbai. Apart from that, I have started with my preparations on MMS admissions.
Share with us some of your favorite college memories – Sad, pleasant or anything?
My college gave me some really pleasant memories to cherish for a lifetime. The friends that it gifted me, the kind of fun that it shared with me and, of course, the things that it taught me, can never forget my college for that. The last moment preparations, the bench banging sessions, the loud songs in canteen, bunking lectures for no reason and of course, attending them for no reason as well, there are many memories that I would like to share. But the best was the first day at my college. I was late for the first lecture at MCC and had to stand out of the class for the complete lecture. 😀
College was best time of my life.
What has BMS life taught you?
BMS has been the best teacher for me. The kind of person I used to be before and after BMS, there has been a drastic and pleasant change that I can feel within me. It has given me the confidence which lets me stand with people, rather above them. Apart from that, timeliness, presentation skills and the formula to act as per situation are some of the qualities that my BMS life taught me.
How is life after BMS? What changes do you see in yourself?
BMS has changed my life completely, for the good. I feel more confident, have improved my communication skills drastically and a complete personality change from being an introvert to a complete extrovert and I can never forget BMS for that.
Who in your life has influenced you the most?
When it comes to BMS, my friends and professors are the one who influenced me the most to opt for the correct decisions and they still are guiding me whenever I seek advice. And apart from them, my parents and my cousins are the people who have played a great role in my life. In fact, it was one of my cousins who influenced me to pursue BMS when the course started and I was in my high school. Keeping that in mind I started preparing accordingly, and went through the golden days of my life.
Has BMS course really helped you in the corporate world or in MBA?
Ofcourse, BMS is really helping me to cope with the corporate world I am into right now. The habit of keeping a track of day-to-day affairs in my BMS days has really helped me in my corporate life and lifts me above the competition that I face right now. And as far as MBA is concerned, I am sure that the studies made in the BMS days will surely help me to get through it with ease.

As BMS alumni, what changes would you like to bring in management education?
As alumni I feel that BMS is the course that is to be done to get a firm base at the junior and middle level managers, therefore, specialization rather than just being in the sixth semester, should be for the complete third year. This would really help the students to get the detailed knowledge of what they would be facing in early future. And this would be done pretty easily as the subjects that are being taught in the first and second year have some have great details and in depth analysis at the core of the subject. And also, specialization should not be limited to finance and marketing, human resource, retail and other MBA/MMS specialization should be a part of the curriculum.
What is the ideal career option after BMS? Why?
The best career option after BMS is to get a specialization degree in the stream that you are best in or have interest in. BMS does touch the core of the subject, but to get the complete knowledge, a specialization degree is the best what you can opt for after BMS. This can be done directly after completing the BMS degree, or you can opt for a break from studies and have the "corporate experience" for a year or two, and then continue with MMS.
Do you think internship/work experience is a must before pursuing MBA?
To get a degree is not enough for a manager to directly start with the career. And after MBA, directly getting into the corporate world without any experience at the base level would really create some difficult situations for you and the people under you. So, I would suggest to go for a corporate experience at the base level and climb the stairs peacefully rather than having a leap directly to the top and trying to balance yourself where there are few to support you.
What message would you like to give to the current BMS batches?
The only message that I would like to give to the current batches is that enjoy these golden days of your life to the fullest and never miss any moment as they are the one which can carry you forward with life. And ofcourse, work hard and party harder.. 😉
How is BMS.co.in? What help should it provide in future?
BMS.co.in is a great site, helps me to stay in touch with the course and get updated with the latest buzz around it. It helps me get to know people more personally, and ofcourse there are ways to make it better by providing with more interviews of the faculty, about what they expect of students and tips on how to tackle tricky situations that the corporate world makes them face by taking the correct decisions at the right moment.
The following two tabs change content below.
We, at BMS.co.in, believe in sharing knowledge and giving quality information to our BMS students. We are here to provide and update you with every details required by you BMSites! If you want to join us, please mail to
[email protected]