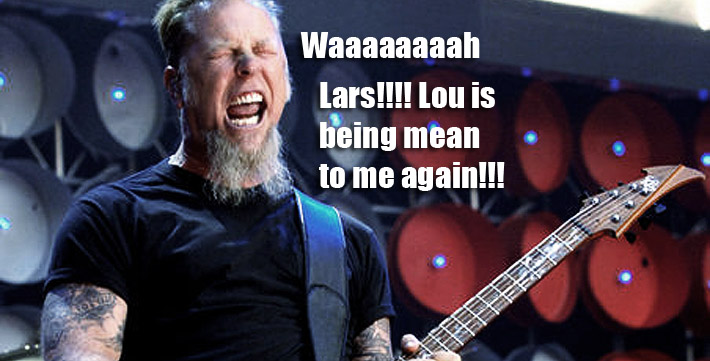 As Jerry Seinfeld once stated so presciently, "Somewhere out there is the world's worst doctor." What does this have to do with Metallica? Well, even within the most accomplished professions, somebody somewhere has to be the worst at their job. And even though Metallica have been great plenty of times throughout their long, storied history, they've made some indefensibly lousy songs over the years. Many of them can be found on 2003′s much-maligned 'St. Anger,' but we managed to come up with some earlier, and later, cuts for our list of the Top 10 Worst Metallica Songs.
10: 'I Disappear'
From: 'Mission Impossible 2' (2000)
The first cut to make our list of the 10 Worst Metallica songs was tasked in 2000 with the mission of single-handedly bridging the six long years that separated 1997's 'Reload' and 'St. Anger.' Still, we admit that the chugging 'I Disappear' isn't all that terrible so much as it's just so meh, given the high expectations for it.
9: 'Cure'
From: 'Load' (1996)
For all the vitriol hurled at 'Load' by newer 'Black Album' fans expecting a sequel to that hit record, many of the album's songs have aged surprisingly well. But not all of them — like the plodding side-two opener 'Cure,' which sounds as boring today as it did 17 years ago. Yawn.
8: 'The Unforgiven II'
From: 'Reload' (1997)
Sequels are a slippery road to travel — just ask anyone associated with all those crappy "Part Two" movies you've never seen. The 'Reload' album from 1997 was made up of leftovers from 1996's flawed 'Load' LP. So did 'The Unforgiven II' — a sequel to 'The Black Album' favorite — really stand a chance under those circumstances? It's not a total embarrassment, but clearly not as good as the original version.
7: 'The Unforgiven III'
From: 'Death Magnetic' (2008)
Please stop already! Scarring the legacy of one of Metallica's all-time greatest songs one time was bad enough. But going back for a third stab at the song? Downright offensive. Still, give Metallica points for at least being honest about their recycling. Most bands would just slap a new title on their old chord changes.
6: 'Invisible Kid'
From: 'St. Anger' (2003)
Calling 'Invisible Kid' one of the better songs on Metallica's lamest hour (actually, more like 80 excruciating minutes) puts the terrible 'St. Anger' in terrifying perspective. The band's ill-conceived anti-production gambit managed to ruin even the album's few promising tracks. So what chance did weaker songs like 'Invisible Kid' — which drags along for eight interminable minutes — have?
5: 'My Apocalypse'
From: 'Death Magnetic' (2008)
Rick Rubin's restoration of Metallica's vintage sonic blueprint on 'Death Magnetic' came as such a relief to fans still struggling to come to terms with 'St. Anger' that many failed to notice how dull several of its songs really are. None of them more so than 'My Apocalypse,' 'Death Magnetic"s energetic but forgettable album-closing filler tune.
4: 'Fixxxer'
From: 'Reload' (1997)
Does an album's last song in the modern era really have to equal the album's worst song? (See No. 5 on our list of the 10 Worst Metallica Songs.) 'Reload's' irksome 'Fixxxer' admittedly isn't any worse than so many of the album's other tracks (see 'Devil's Dance,' 'Low Man's Lyric' and 'Carpe Diem, Baby'). It's just more guilty of prolonging the boredom.
3: 'All Within My Hands'
From: 'St. Anger' (2003)
As bad as 'Death Magnetic"s and 'Reload"s final cuts are (see Nos. 5 and 4 on our list of the Top 10 Worst Metallica Songs), 'St. Anger's' colossal closing dud is so much more terrible. 'All Within My Hands' stretches the album's various unpleasantness — the haphazard assemblage of riffs, drunken melodies, bowel-loosening bass rattling and kitchen-pan drumming — to nearly nine execrable minutes. At one point, James Hetfield even softly croons over this racket. Why?
Listen to 'All Within My Hands'
2: 'Purify'
From: 'St. Anger' (2003)
Somehow 'Purify' tops even 'All Within My Hands' for sheer, paralyzing boredom on 'St. Anger,' needlessly beating this long-dead horse of an album in the process. One can't help but wonder whether Dr. Phil Towle – the therapist featured in the 'Some Kind of Monster' documentary – didn't intentionally try to drive Metallica fans insane so they'd sign up as his clients after they were forced to endure 'St. Anger.'
1: 'Temptation'
Heard in 'Some Kind of Monster' (2003)
How bad is 'Temptation'? It's so terrible that it didn't even make it onto the awful 'St. Anger.' The only evidence of this torpid song's existence comes from a few, but unforgettably painful, minutes in the 'Some Kind of Monster' documentary. There are rumors that a finished version of the song is out there, but like the Cuban Missile Crisis, this global catastrophe has been avoided so far.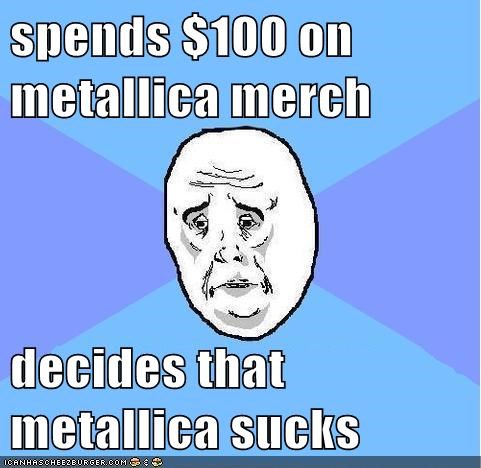 BY HARSHVARDHAN SINGH.
The following two tabs change content below.
harsh
A fan of art,cinema,music and whatever is beautiful. currently a student. Creativity and innovation always draws me towards it. i am the one who reads books,hears music take pictures explore places and does whatever gives peace and pleasure and shares it .