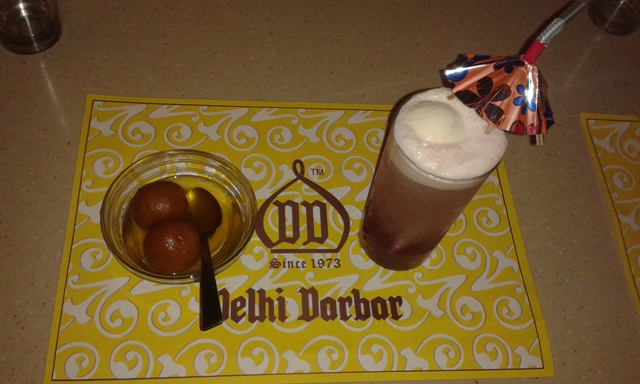 Is your palette craving for some lip-smacking, authentic Indian cuisine? If it is then you simply can't afford to bypass this food joint which serves authentic Mughal cuisine in the midst of one of our favourite shopping hubs.
Name -Delhi Darbar Restaurant
Where -Colaba, near Regal Cinema.
Specialities- Tangdi Kebab, Butter Chicken, Chicken Biryani, Gulab Jamun and Strawberry Volcano.
 With an amazing array of culinary options, the Delhi Darbar is like a hidden gem. The architecture is elegant with crystal-color chandliers adding to the glow.
You can begin with a tender and flavour-infused, Tangdi Kebab (Rs 185) for the starter which provides a succulent start to the meal. For the main course, you can opt for the Butter Chicken (Rs 210) which arrives on a bed of crisp opinions and the enticing, exotic aroma tickles your nostrils. This dish arrives creamy and velvety and is pure indulgence! The tender pieces of chicken in it are grilled perfectly in flavorful spices and simmered in cream and herbs and truly lives upto the authentic charm and is a wow-inducing factor. The Chicken Biryani (Rs 230) is another dish you cannot afford to bypass as it will tantalizingly tease your taste buds.
For the dessert, the Gulab Jamun (Rs 85) rout here  is a must-have. As you dip your spoon into this spongy-tawny colored globe, you will see that the treat still warm,offers a fragrance of cardamom and roses. It is soft and forgiving just like a good sweet should be. It's golden elixir spills from the centre and carries an aroma reminiscent of royalty. You will relish this well-prepared confection that will melt in your mouth and leave a sweet, milky aftertaste.
To wash it all down you can sip on The Strawberry Volcano mocktail (Rs 110) and you are sure to feel that your senses have been treated well. You will get amazed by the after-kick gusto. Classy, comforting and contemporary all at once,this place is surely a jewel for those who's palette craves for Indian cuisine and is worth a nosh!
BY MISBAAH MANSURI