So this is the extension to the first part of Amazing Quick breakfast recipes for food lovers (Part 1)
Amazing Quick Breakfast Recipes For Food Lovers (Part 1)
This extension has got some more familiar, quick and easy recipes to cook and are also easy in terms of ingredients in your daily kitchen to cook.

We all love them and wish some more when our bowl of French fries finishes when we are out. So the advantage of cooking it at home is it's of course healthier and you have them in loads to eat and store for future use too.
METHOD:
You only need good big potatoes for this to get long fries.
Grate the peeled potatoes sliced in a slicer. If you do not have a slicer you can always use your knife but make sure you cut them in the right shape. Cut in in circles first and then vertically.
Later drop them in ice cold water. Soak them in water till 8-10 minutes.
Then you can steam it for 2 minutes they are half cooked. If you do not have a steamer boil them till 5 minutes. It should be half cooked.
Dap them with a cloth and dry them out. Once they are nice and dry place it in a zip pouch and place it in the freezer for 15 minutes.
The reason why it is kept in the freezer is when it hits the oil is cooks slowly and gives the perfect brown color.
After 15 minutes fry them in hot oil. When it is crunchy and turn the color remove them out and drain the excess oil.
Sprinkle some salt and pepper when out with light hands.
Serve with tomato ketchup.
If you want to store it for long time – flash fry them for a minute and then cool them down, store it in a zip lock bag in the freezer.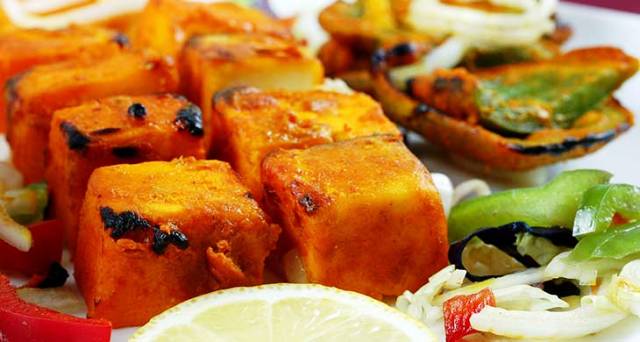 Pakodas are the best tea time breakfast with hot cup of tea. India have got a variety in the pakodas section but this one is my favorite. It's yummy and different from the other typical pakodas. It's quick also with the main ingredient being paneer.
METHOD:
Cut the paneer into cubes of size you prefer but don't make it too small. It should be quarter the size of a bread.
Now we will make sandwiches out of 2 paneer cubes and the green chilly chutney. Spread the chutney on one paneer nicely all around and place the other slice on top of it making it a sandwich. Do this with all the paneer slices.
Now the batter has to be made. In a bowl – take gram flour, salt to taste, some pinches of turmeric powder, red chili powder, coriander and cumin seed powder, fresh chopped coriander leaves and water according to the required consistency. Make the batter's consistency a pouring one.
Now dip the paneer made sandwiches slices into the batter. Flip them with a fork and make sure each corner touches the batter.
Take a pan and heat the oil for frying the pakodas. Drop the paneer slices once the oil is hot. Flip them once they turn little brown.
As you take them out drain the excess oil and immediately sprinkle chaat masala and serve with ketchup or any chutney you like.
This are best served with hot tea.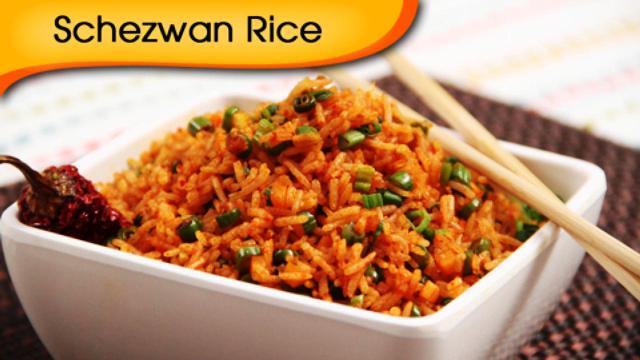 It sounds big and damn yummy when we eat it out – and we think it's damn tough and time consuming to cook it. But you are wrong. This is one of the quick and easy recipe with rice which you can cook anytime. Spicy red dishes are rocking in our desi land and Indians are loving Chinese food. This is very simple and yummy too cook and satisfy your taste buds every spoon.
METHOD:
Take a wak, heat 2 tbsp. of oil.
Add finely chopped garlic.
Tear in a red chilly
Add finely chopped French beans.
Add finely chopped carrots.
Stir fry this veggies on high flame for 1 minute.
Then add lots of schezwan sauce of a good brand. The schezwan should be in quantity according to the rice you have.
Mix all well.
Add a little of soya sauce
Add vinegar (optional).
Now add the boiled rice and mix well.
Add spring onions and leaves at last before turning off the flame.
Serve hot.
NOTE:  While mixing the rice make sure the rice doesn't breaks. Better try to tause the walk itself if you can. Or softly use the spoon to mix well.
The French beans and carrots should be finely chopped i.e. very small. You can also add capsicum if you love.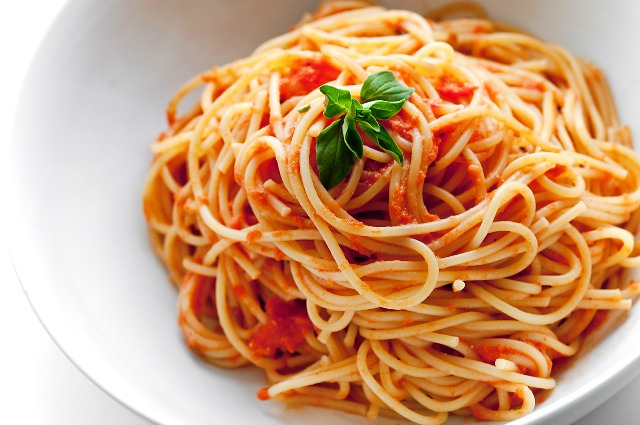 We all spend more bucks to eat all this Italian cuisines when they are so simple to cook at home. Now if you are a food lover and love cooking trying this is a must.
METHOD: take a wok, add oil. Pour in some onions finely chopped, garlic paste, zucchini halfly chopped and salt to taste. Stir them.
Then add mushrooms and the tomato pulp. Mix it well.
Then add all the spices – which is readily available for pasta seasoning, add red chilly sauce, tabasco, ketchup and little powdered sugar. Mix them well.
Add basil leaves and fried oregano and salt.
Cook it for 7-8 minutes as the rawness of tomato needs to go.
Add the spaghetti at last and tause all well.
You can add all kinds of vegetables you prefer and like for your spaghetti.
Mix the sauce well with the spaghetti.
Serve hot.
NOTE: the tomato pulp is made by boiling 4 tomatoes. Peel off them and grind it in your grinder.
HAPPY COOKING! 🙂
BY SANGITA MAITY.