GRILLED CHICKEN SHAWARMA AND ISRAELI SALAD.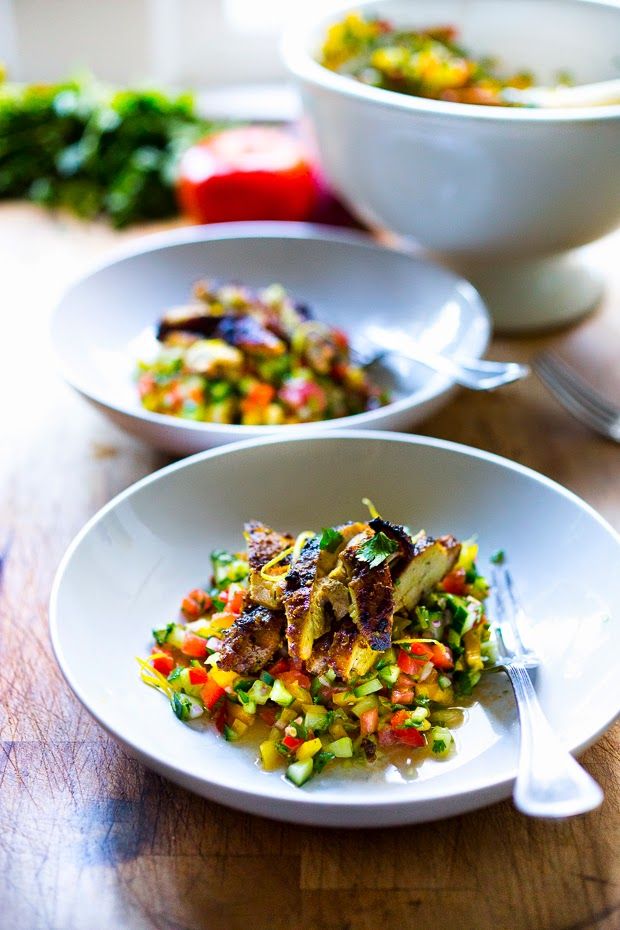 INGREDIENTS:
FOR CHICKEN SHAWARMA
1kg chicken thighs (boneless and skinless – skin out)
2 tbsp. ground cumin
2 tbsp. ground coriander.
8 garlic cloves, minced.
2 tsp kosher salt.
6 tbsp. olive oil.
¼ tsp cayenne.
2 tsp turmeric.
1 tsp ginger.
1 tsp ground black pepper.
2 tsp allspice.
ISRAELI SALAD.
2 extra-large tomatoes.
1 English cucumber.
½ medium red onion.
1 red capsicum.
1 yellow capsicum.
½ cup mixed herbs, Italian parsley mint and coriander.
1 lemon zest.
½ lemon juice.
4 tbsp. olive oil salt and pepper, to taste.
Chicken Marinade: place all in a bowl and mix, or pulse in a food processor. Make a paste. Rub chicken on all sides with the marinade and let sit 20 minutes (or up to 24 hours refrigerated.)
Grill chicken on a pre-heated BBQ, on medium high heat, closing the lid to the bbq, until all sides have nice grill marks, about 8 minutes each side. Finish chicken in a 180 degree Celsius oven until cooked all the way through about 10 minutes.
Salad: Chop the first 6 ingredients into a very small fine dice. The smaller, the better. Place in a large bowl and toss with the lemon zest, olive oil, lemon juice, salt, pepper.
It makes approximately 4-6 + … Preparation: 35 minutes. Cooking time: 15 minutes.
SHAVED CARROT SALAD WITH PISTACHIO AND POMEGRANATE VINAIGRETTE.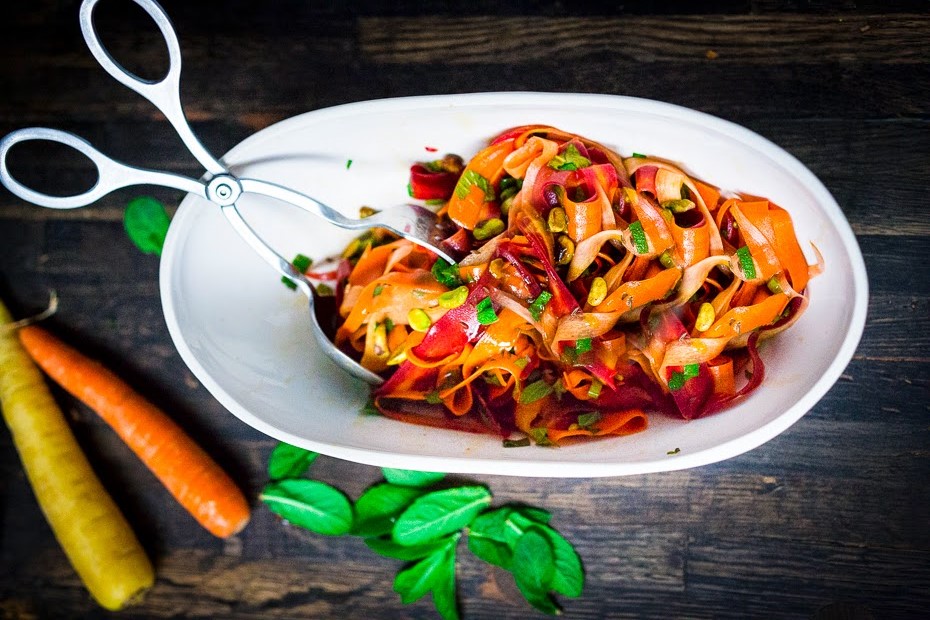 INGREDIENTS:
4 large peeled carrots (multi-colored are very pretty, but orange are fine too)
3 tbsp. pomegranate vinegar.
2 tbsp. olive oil.
½ tsp salt
Cracked pepper
1 tsp sugar
¼ cup chopped roasted pistachios.
1/4 cup chopped fresh mint.
¼ cup chopped chives or scallions sprinkling of toasted caraway seeds or cumin seeds (optional, but delicious)
Peel the carrots. Using a vegetable peeler, shave each carrot into long paper thin strips.
Place carrot shavings into a medium bowl. Add the rest of the ingredients and toss well to coat. Chill until ready to serve.
Serves 2-4. Preparation: 15 minutes. Cooking time: 15 minutes.
QUINOA CHICKEN SALAD WITH HEIRLOOM TOMATOES.
INGREDIENTS:
1 cup quinoa, rinsed.
450 g of seasoned chicken (for seared tofu, or cooked garbanzo beans).
450 g heirloom tomatoes, halved or diced.
1 can chick peas, rinsed and drained.
1 cup Italian parsley, chopped.
¼ cup onion, finely diced.
1 lemon, zest.
1-2 cups arugula or mizuna (optional)
225g small mozzarella balls, halved (optional).
DRESSING
¼ cup + 1tbsp olive oil.
1/8 cup red wine vinegar.
1/8 cup fresh lemon juice.
1 tsp salt.
Cracked pepper.
2 garlic cloves, minced.
Pinch sugar.
Rinse quinoa and place in medium pot with 1 small cup water and ½ tsp salt on high heat. Bring to a boil, cover and turn heat to low, and cook covered 15-20 minutes, or until all water is absorbed. Fluff with fork and cool in fridge, overnight or for 1 hour.
DRESSING: mix all ingredients in a small bowl. When quinoa has chilled, place in large bowl, fluff with fork. Add tomatoes, chickpeas, chicken or tofu, herbs, zest, onion and mozzarella balls (optional). Toss with dressing. If you like, place it on top of a bed of greens like arugula or mixed lettuces.
Serves 2+. Preparation: 15 minutes. Cooking time: 20 minute.
Vegan Ricotta and Spinach Lasagne.
Ingredients:
9 lasagne sheets.
250 ml tomato sauce.
400 g tofu.
¼ cup almond milk.
1 tbsp. olive oil.
3 cloves of garlic smashed.
½ onion chopped.
Juice of a half lemon.
1 tbsp. mustard.
1 tbsp. sugar.
1/2 tbsp. salt.
120 g baby spinach leaves.
2 tbsp. vegetable oil.
METHOD:
Fry the onions and 2 cloves of garlic in the vegetable oil under tender.
Add the tomato sauce, sugar, mustard, and a small amount of water and bring it to the boil.
In a food processor beat the tofu, almond milk, olive oil, 1 clove of garlic, lemon juice and salt for a few seconds, just enough to incorporate all the ingredients together.
Add the spinach leaves to the tofu "ricotta" nature.
Spoon a bit of the tomato sauce into the bottom of the baking dish and place the pasta sheets on top, then spread half of the ricotta/spinach mixture out evenly using a spatula, and pour on more of the tomato sauce.
Repeat the process until the final layer of pasta and tomato sauce.
Bake in a preheated oven at 180C for 45 minutes.
CRISPY TOFU PILLOWS.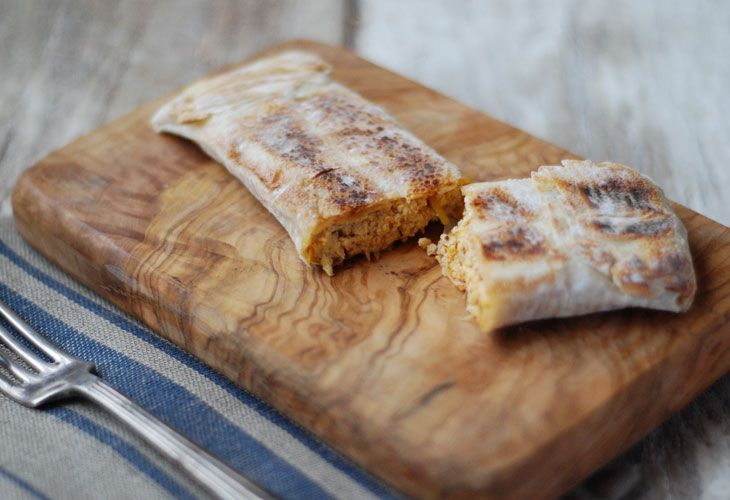 INGREDIENTS:
4 sheets filo pastry.
400g tofu.
2 tbsp. teriyaki sauce.
3 tbsp. olive oil.
15g chives chopped.
2 cloves of garlic smashed.
½ onion chopped.
2 tsp paprika.
½ tbsp. liquid smoke.
2 tsp chili powder.
Juice and zest of 1 lemon.
Salt
Black pepper.
Method:
Freeze the tofu, first of all.
The day before, take the tofu out of the freezer and leave it in the fridge overnight to defrost, or simply place in hot water for 2 hours.
Squeeze the tofu until you drain all of the water out of it.
You might be surprised how much water comes out, and it'll feel rather like a sponge.
Crumble the tofu with your fingers until it becomes granulated.
In a bowl mix the tofu with the rest of the ingredients and let it marinate for about 30 minutes.
Lay out a filo sheet, place a ¼ of the tofu mixture in the middle, then roll it up tightly into a pillow shape, and tuck in the edge to seal.
Repeat the process until you have four pillows.
Fry it, without oil, for about 2 minutes each side or until crispy and golden brown.
BY SANGITA MAITY.