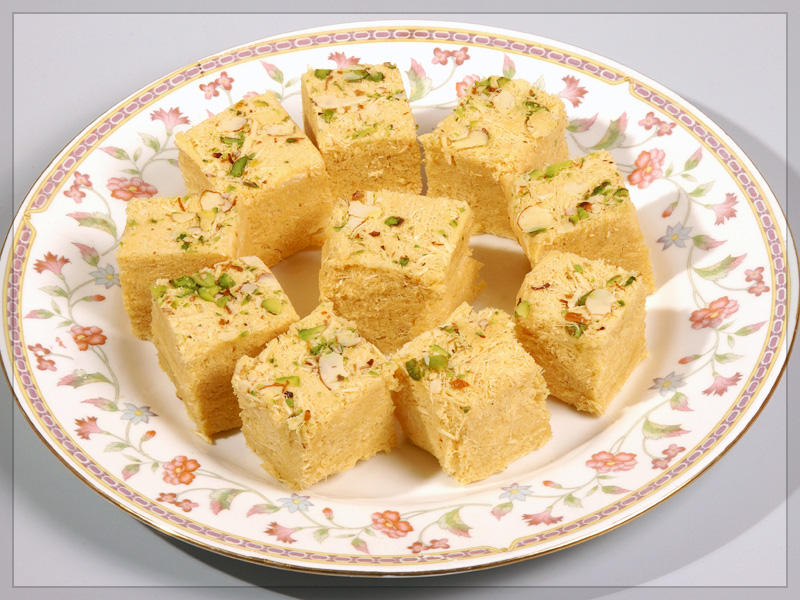 India is not just famous for its varied culture but also for its variety of food. All different states have their unique taste and with so many states come double the number of dishes and sweet dishes. We Indians definitely have a sweet tooth, as we love to gorge on sweets even for the simplest occasion.
"Badhai ho, pappu pass ho gaya, lo muh meetha karo" to "wedding" you are surely going to find sweet. There may be 100's of sweets like Rasgulla, Jalebi, Pedas, Halwas and Ladoos but Soan papdi has its different place. This flaky sweet dish beats others with its exotic crispness.
1)   SOAN PAPDI: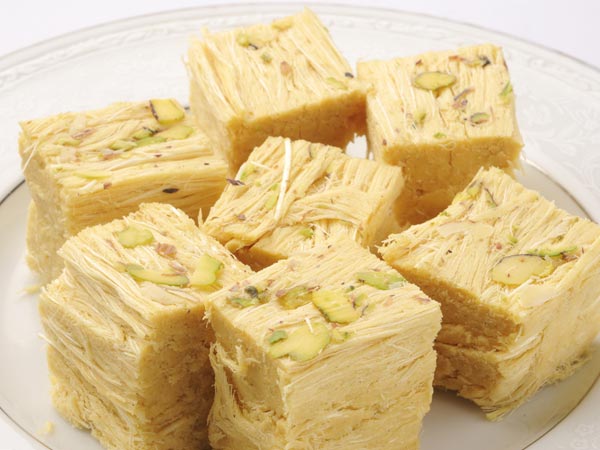 PREPARATION TIME: 45 MINUTES
MAKES: 20 PIECES (APPROX.)
Ingredients:
1 1/4 cup gram flour
1 1/4 cup plain flour (maida)
250 grams ghee
2 1/2 cups sugar
1 1/2 cup water
2 tbsp. milk
1/2 tsp. cardamom seeds crushed coarsely
2 tsp. charmagaz (combination of 4 types of seeds) refer glossary
4″ squares cut from a thin polythene sheet
METHOD:
Sift both flours together.
Heat ghee in a heavy saucepan.
Add flour mixture and roast on low till light golden.
Keep aside to cool a little, stirring occasionally.
Prepare syrup simultaneously.
Make syrup out of sugar, water and milk as shown in introduction.
Bring syrup to 2 1/2 thread consistency (when tested between thumb and forefinger, string appear in 2 places.
Pour at once into the flour mixture.
Beat well with a large fork till the mixture forms threadlike flakes.
Pour onto a greased surface or thali and roll to 1″ thickness lightly.
Sprinkle the charmagaz seeds and elaichi and gently press down with palm.
Cool, cut into 1″ squares, wrap individually into square pieces of thin plastic sheet.
Store in airtight container.
2)   KESARI TOUCH SOAN PAPDI:
Gram flour                    – 1 cup
All-purpose flour           – 1 cup
Ghee                            – ¾ cup
Cardamom pwd             – ¼ tsp
Sugar                           – 2 cups
Water                            – 1 cup
Saffron                           – a generous pinch
Almonds                       – 6
Pistachios                     – 6
METHOD:
Combine both flours together in a wide bowl.
Heat ghee in a fry pan.
Add the flour mixture and roast flours to golden brown.
Add cardamom powder, mix well.
Remove from heat to the wide bowl.
Allow to cool with occasional stirring.
In a separate heavy sauce pan, prepare sugar syrup by dissolving sugar and water.
Continue heating with stirring, until it reaches 2 ½ thread consistency.
You can check this by adding a drop of syrup in cold water, it should form a ball, which can be flattened easily, when taken out of water (i.e. Soft ball stage), or press a drop of the syrup between thumb and forefinger and gently pull apart, you should see two threads of the syrup.
Getting correct sugar syrup consistency is the secret of the softness of this sweet.
Now add the crushed saffron threads.
Mix and pour the hot syrup in flour mixture.
Beat well with a fork until it forms flakes.
Add grated almonds and pistachios.
Transfer it to a greased tray and pat it to 1 inch thickness.
Allow to remain for 30 minutes.
Now cut into pieces and serve.
For sure you can't stop after having a bite. The way it just melts as soon as it comes in contact with your tongue….. yummy!!
– Harshali Amin