Deepika Padukone is the long legged diva of the Bollywood. A badminton player, model, an actress and truly a star. She can play almost every role with equal ease n charm. A stunner, a hearthrob, a girl next door…she can be all of it and a lots more.

This shiny white gown makes her look like a temptress. The perfectly toned bod, dress fitting at the right areas and the long  split brings out the oomph factor. Half tied hair with slight curls at the ends. And the dark lip color is a great contrast to the monotone dress and brings out some fun. She spells class..

Now an LBD is a girl's must have! But this little orange dress is a winner! Perfect for Dippy's athlete figure, it does more then just showing off legs. The low neckline with a slight hint of cleavage, a  belt at the bust, a boring bag to keep it away from stealing the attention and a lot of attitude is what we like. A neatly done hairdo and sunglasses to match the outfit, she looks the girl next door in a quirky sense. 
The dazzling golden traditional top with a long red and orange skirt is sure a style statement. Dippy spins her own touch to the much Indo-Western look. Nude make-up, danngling earring and those deep dimples to drown in. This look is one of our favourite.
Now it is much known that Dippy loves gold but i guess gold loves her back too! This white and gold chudidar with endless tips the boys would die to keep it off ground..this one is sheek. Not too dressy yet so stylish, only Dippy can pull this off with great success. With much less accessories, the clutch and earrings make a great balance.

Polka dots are sure cute! But Dippy still manages to make it look sizzling hot with this polka dots pant suit. The blue sleeves break away from the monotone and the jacket is a perfect fit. The matching hotpants only make it look more hot and smokey! A contrasting ganji and no make-up makes this one a winner.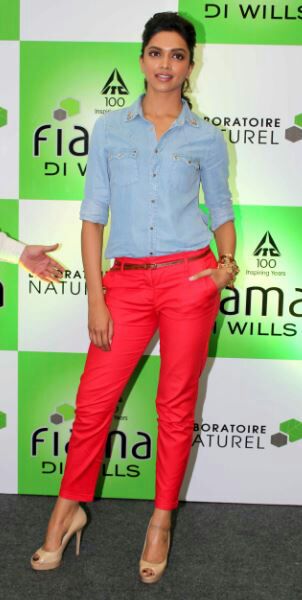 Though coloured pants were made famous by Kat, Dippy brought it much in vogue. These bright orange pants and a demin shirt is casual yet stylish. Perfectly complementing her body, the towering heels add chic to the whole look. She sure knows how to get her contemporaries jealous!
– Kashmeera Tambe
The following two tabs change content below.
BMS Team aims to help the BMS students all over Mumbai colleges, empower BMSites and revolutionize management education. If you wish to be a part of our core team, write to contact@bms.co.in