5 Interesting Facts That You Ought To Know About 'FIFA Ballon d'Or'
The FIFA Ballon d'Or is an annual association football award given by FIFA to the male player considered to have performed the best in the previous calendar year. It is awarded based on the votes from national team coaches and captains, as well as journalists from around the world.
Here are some Interesting Facts that you must know about 'FIFA Ballon d'Or':
1. The award started in 2010 after France Football's Ballon d'Or and the men's FIFA World Player of the Year award were merged.
Here is the image of FIFA President Sepp Blatter (R) and President of the Amaury Group, Marie-Odile Amaury at the launch of the new player of the year award:
2. The winner of the inaugural 2010 FIFA Ballon d'Or was Lionel Messi. Lionel Messi was also the winner of 2011 and 2012 FIFA Ballon d'Or.
Here is the image of Lionel Messi: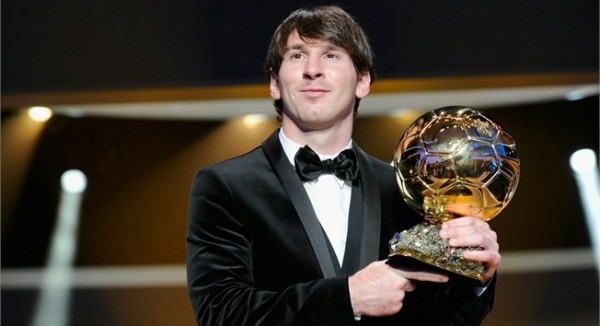 3. Cristiano Ronaldo has been crowned as the 2014 Ballon d'Or winner.Lionel Messi and Manuel Neuer were also on the three-man shortlist.
Here is the image of the trophy, Lionel Messi, Manuel Neuer and Cristiano Ronaldo:
4. In the year 2013 Cristiano Ronaldo was crowned as the 2013 Ballon d'Or winner.
Here is the image of Cristiano Ronaldo winning the FIFA Ballon d'Or award for 2013, ending Lionel Messi's four-year run as the world's best player:

5. In 2014, Pelé was given an honorary Ballon d'Or having won three FIFA World Cups with Brazil but he never got it as an  individual award from FIFA during his playing career as only European-based players were eligible to win the original Ballon d'Or.
Here is the image of Pelé Receiving an honorary Ballon d'Or:
FIFA Ballon d'Or Gala 2014 Highlights:
Cristiano Ronaldo on winning the FIFA Ballon d'Or: