So when we talk about dressing styles and fashion sense in India, the two starkest examples come out to be Traditional and Modern patterns. No wonder, they are poles apart in all senses but why do we have to pick one? Isn't our dressing all about how we are feeling? Moods personify our style and add the zing to our personality. So here are some fashion tips for modern and traditional clothing! Have a look if you like some versatility in your closet!
Traditional Trends:
These days, Traditional is really in fashion and people love to wear those shiny, shimmery sequined garments to social gatherings. Sarees and Anarkali dresses are trending big this season and have topped the list of fancy wears. Avoid the heavy Lehengas as they simply make it difficult to enjoy your times in them. This season, it's all about comfort, light chiffon wear, subtle, faded hues and shades with simple and elegant decorative. If we are looking into casual wears, then Kurtis have become the trend off the season and are hitting off the stores really well. As far as accessories are concerned, black metal jewelries of traditional Rajasthani patterns are very in. Various bright scarves and handbags look awesome if properly coordinated with the dresses. Traditional attire always gives you the added advantage of standing out in the crowd as these attires have become rare now and hence whenever possible, try adapting to this look!


Modern Trends:
Modern trends are widespread and have a huge variety to choose from. One pieces and flowy gowns are the fancy wears that never go out of fashion. Just the hues should be matched according to your skin tone and you are ready to stun your surroundings! If we talk of semi casual, then cute flannel skirts or shorts look very pretty with crop tops and flats. Casual attires always have a pair of jeans coupled with a range of tops to choose from. Try being funky this season with a splash of different colors and uncoordinated random accessories to give it a raw yet ravishing look!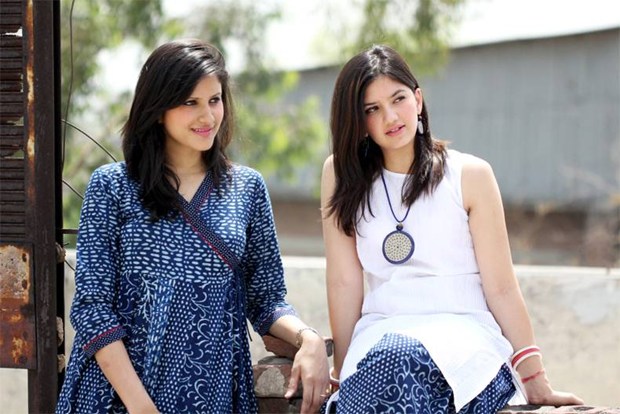 Although traditional and modern getups are totally different from each other, there has and always will be scope of a decent fusion. Pairing Kurtis with jeans and wearing a lot of chunky jewelry to support that look is one way to get you the ultimate "Jugalbandi" of Traditional and Modern Getups. You're free to come up with more varieties, just know, control in such risky fusions is necessary so don't overdo them as they might otherwise turn into fashion disasters. So today, you don't necessarily need to pick or find a style, you need to create yours!
The following two tabs change content below.
Latest posts by Poonam Gandhi (see all)