Bollywood is undoubtedly the trendsetter for the people in our country and celebs define fashion. These days, the film industry has such a great impact and influence on fashion that some looks in specific films become so popular that the films are remembered due to these trademarks! Some of such iconic looks have been inspired from Queen B Kareena Kapoor Khan's wardrobe. Let's have a look at those movies which made her style quotient zoom up!

Tashan:
Kareena was the diva who stood out in this film with her very popular size zero look and that incredibly toned out body. Her dressing style in this movie was very chick and became very trendy during that time.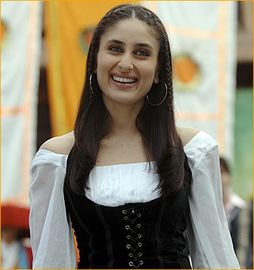 Jab We Met:
Not only was this one of Bebo's most successful movies, it was a milestone in her career and the different outfits that she wore especially in songs like "Nagada" with the Patiala dress and "Yeh Ishq Haye" with the country-look outfit  became extremely popular and hit the audience really well.
3 Idiots:
This was another blockbuster film of Kareena, where she endorsed a look very different from her usually glamorous self. Her casual look with the traditional Kurtis, nerd glasses and black metal jewelry became very famous amongst the youth, especially college students. Also, the orange saree in the song "Zoobi Doobie" was also highly appreciated.
Bodyguard:
This film showed Kareena in very traditional attire with beautiful and elegant Salwar suits and she carried it off with grace and poise. But her true charm was seen in the song "Teri Meri" where she looked sultry and sassy in the deep green saree that she wore and attracted a huge audience after which that color and saree type became a trendsetter in the fashion industry.
Herione:
This movie was all about the bling and where Bollywood meets fashion and hence all of Kareena's looks in this film was very high maintenance, classy and gorgeous. Her beautiful sparkly one piece with high heels and dark makeup and the exceptionally fancy sarees just added to the oomph factor and made her the style icon of the season!
Kareena is known for her great taste in fashion and her sense of styling has always inspired the industry. She is a celeb who can pull off any look beautifully because it's never about what you wear, but it's about how well you carry it off!
 – Anwesha Rath