There are so many gangs today as there ever were. The gangs are increasing day by day and because of it many innocent teenagers are been attacked. There are various reasons why the youth join the gangs.  Some believe that gangs are caused by peer pressure. Many teens in gangs will pressure peers into becoming part of a gang by making it all sound glamorous. Other teens will use money as a crucial factor. A kid is shown that they could make a couple of hundred for small part time gang jobs. This includes selling drugs and robbing other people. Let me tell you the history of the gang. WHEN, WHY, WHO, HOW ..etc was it formed. Researchers frequently use 5 criteria to define a gang: (1) formal organization structure, (2) identifiable leadership, (3) identified with a territory, (4) recurrent interaction and (5) engaging in serious or violent behavior.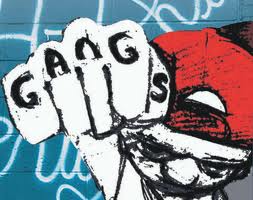 Pirates were probably the first types of gang in history. To define a gang is a difficult task, but I will give you an idea of what a gang actually is. A gang is a loosely organized peer group of persons in a lower, middle, or upper class community who participate in activities that are either harmful to themselves and/or others in society. They share a common name, symbols and colors. Former gangs came together for social reasons. But modern-day gangs meet for anti-social reasons.   Some reasons for the cause of the youth behavior will be the media e.g. by watching movies like WAIST DEEP, GANGSTER SQUAD, CITY OF GOD, NEW JACK CITY etc. People when they watch such stuff the fear, the pain, the humanity, the softness towards the others etc. everything is been lost from them like how you drain in washing machine the same way its been drained from the person's mind. Some teenagers are into gangs due to poor parenting.
Families who have many children who belong to the poor class and the middle class where the parents are always working, the children will always feel deprived of love and attention. The parents don't have enough time to talk to their children. It is the duty of the parents to spend some quality time with their kids so that you know what your kid is facing through. Also you should see to it that what kind of friends your kids have try to know them and if you think that your kids are in a bad company try to make them understand and don't scold them.