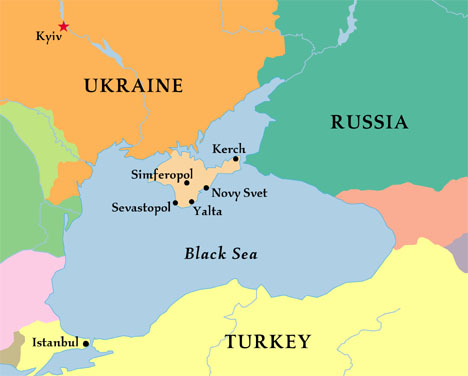 Crimea at present is an independent state which broke off from Ukraine and is soon likely to join Russia.
97% people voted in favor for joining Russia and around 3% were against joining Russia.
US and European allies are against Crimean joining Russia.
However there was total chaos during voting as many Crimeans did not cast their vote saying that the ballot gave no option to vote to maintain the status quo of Crimea as part of Ukraine.
Children were voting and some people were voting multiple times.
Russian biker gangs and armed self-defense units patrolled polling stations.
President Vladimir Putin on Tuesday addressed a special joint session of Russia's parliament, which could take a decision on annexation of the majority ethnic-Russian region.
U.S. President Barack Obama slapped sanctions on 11 Russians and Ukrainians while European allies imposed visa restrictions to 21 Russian and Ukrainian officials and asset freezes for their roles in the events.