Since 2014 is coming to an end I give you the most anticipated movies of all times to make a fall in 2015 and these movies will make you run head over heels straight to the cinemas. (Movies are numbered as per their popularity)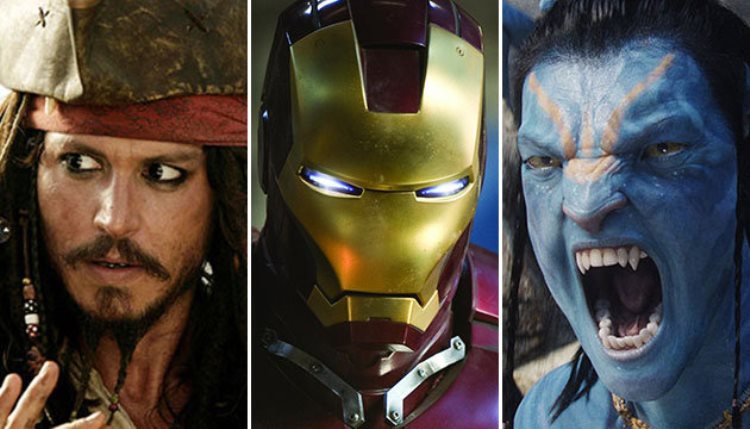 Avengers: Age of Ultron :
    Release date: 1st May 2015
 This movie is gonna blast the box office and there will be houseful cinemas worldwide for weeks. With the stupendous success of its first movie, people are expecting something much bigger from this movie. Of course this is what the audience expect from any sequel; 'More'. I am not gonna speak more about it. Amaze the amazement here.
 (Infact almost all of you must have)
https://www.youtube.com/watch?v=fk24PuBUUkQ&feature=youtu.be
Jurassic World:
Release date: 12th June 2015
After the hit Sir.Steven Spielberg works in critically acclaimed movies like 'Jurassic Park', 'Catch me if you can' 'War horse' and others. The audience are waiting for this spine-chilling adventure ride which keeps you on the edge of your seats. Catch out the trailer
http://https://www.youtube.com/watch?v=RFinNxS5KN4&feature=youtu.be
Furious 7:
    Release Date: 3rd April 2015
This muscular movie which has given you action-packed entertainment for almost a decade now is back with a bang but our beloved Sir. Paul Walker has left the movie halfway. But there are no worries for the furious fans because Sr. Walker had done a great job to give us his brother with a striking resemblance. Flabberghast here:
http://https://www.youtube.com/watch?v=Skpu5HaVkOc&feature=youtu.be
Fifty Shades of grey:
     Release date: Valentines' Feb' 2015
This phenomenon of a book which made the bookworms go full crazy so much to the extent that even the non-readers got their copies. And now… It is a featured film, wonder where this exotic ride would take us. Join the viewer's here:
http://https://www.youtube.com/watch?v=f89Bo36aj5U&feature=youtu.be
Star Wars Episode VII
    Release date: 18th December 2015
Star Wars. Who can possibly miss this light-sabered fighters who actually started a cult and made the kids illuminated? Guess what the cast is coming back to the big screens after years and I bet you don't wanna miss it
Relive it here:
http://https://www.youtube.com/watch?v=OMOVFvcNfvE&feature=youtu.be
Insurgent:
    Release date: 20th March 2015
What if you were to choose any post- apocalypse scenerio to live in? I would choose the Divergent fiction with my eyes closed. The war of the divergents is back and this time Shailene Woodley has returned with a bad-ass short-haired look. It is definitely gonna be kick-ass.
Join the allies here:
http://https://www.youtube.com/watch?v=QzlDGzvI8yI&feature=youtu.be
Minions
    Release date: 10th July 2015
My personal yellow-little cuties are here. With its launch in the movie Depicable Me: 1 & 2 they had no major role to play in. That's where Pierre Coffin decided to make a whole new separate movie for these little midgets here. Don't forget this family.
Tickle your funny bone here:
http://https://www.youtube.com/watch?v=P9-FCC6I7u0&feature=youtu.be
Imitation Game:
    Release date: 21st November 2015
This english heartthrob has made the girls droll over his strong-biographical roles since his appearance in 'Sherlock'
And believe me this guy will make you taste, feel, touch, and smell the World War II reality in this enigmatic movie.
Decipher the trailer here:
http://https://www.youtube.com/watch?v=Sn-7SNrQWMo&feature=youtu.be
Terminator Genisys:
     Release date: 1st July 2015
Yet again Sir. Arnold Schwarzenegger has returned to put an end to the evil vicious robots and save the world from its extinction. But this time there will be a change in the story which I cannot reveal it in lieu of that I can say Arnold has nothing to worry about because he has the 'Mother of Dragons' juxtaposing him. Feel the Steel here:
Fantastic Four :
      Release date: 8th July 2015
You know because of 'Marvel' most people do not commit suicide that's because they line up the most anticipated 'SHOTS' which makes the fans go "until next year". The (Fff) Fantastic four franchise is back to fantasize our fantasy of fantabulous fiction f… (That's too many f's) Get fabulous here:
http://https://www.youtube.com/watch?v=VOVKvSoRPCM&feature=youtu.be
Among others:
11. Jupiter Ascending
12. Ted 2
13. Taken 3
Pitch Perfect 2