In India, railways are considered as the most affordable mode of public transport including intra-city transport. Railways are the lifeline of the commuters in India. Today, there are many large high speed rail lines around the world but India being such a huge economy is way behind in having these bullet trains. However, attempts were made to launch this feature in our country, but in vain.
Railways released a document reiterating the need for high speed rail corridors, under Lalu Prasad Yadav & Mamta Banerjee's ministry in 2007-08 and 2009, but railway officials seem to have found the idea not very feasible. This year again, Railway Minister D V Sadananda Gowda announced in the Railway Budget that India's first bullet train will begin from Mumbai, BKC; which is close to Central and Western railway lines, the Metro corridor and The Eastern and Western Highways. The corridor will terminate near Sabarmati in Ahmadabad. This project is worth 60,000crore that will cover almost a distance of 520kms. In order to make the project profitable, fares of bullet trains are likely to be exceptionally high. One way fare on Mumbai-Ahmadabad route is estimated to be around INR 5,000.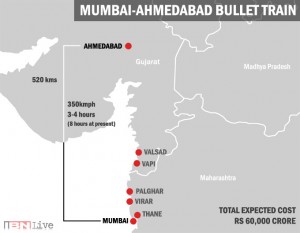 Highways and air travel systems in our country, are constrained, cannot expand, and in many cases are overloaded. Because the addition of bullet trains, that will have a high capacity, it will be possible to relieve congestion on other transit systems. In terms of possible passenger capacity, bullet trains can also reduce the amount of land used per passenger when compared to cars on roads. Bullet trains have no rail-road crossing, no changes of the right-of-way and limited stops on the route, which will make the business and official travel convenient. These trains will promote logical territory structure and help contain urban sprawl, respects the environment – efficient use of land & fuel and progressively help the economic development of the country.
India is a growing economy, and development of hi-tech infrastructure is the need of an hour. considering this as a fact, reform of highways was started way back with National Highway Development Project which laid four lane highways across the length and breadth of the country. Railways in this regard are still waiting for such transformation. India's bullet train should not become another Concorde like the previous unkept promises. When several countries like China, Japan, Germany, Italy and South Korea have successfully started bullet trains, why can't India which boasts of second largest network of railways in Asia, ferrying more than 20 million passengers daily?
– Tanvi Shah
The following two tabs change content below.
Latest posts by Smita Singh (see all)