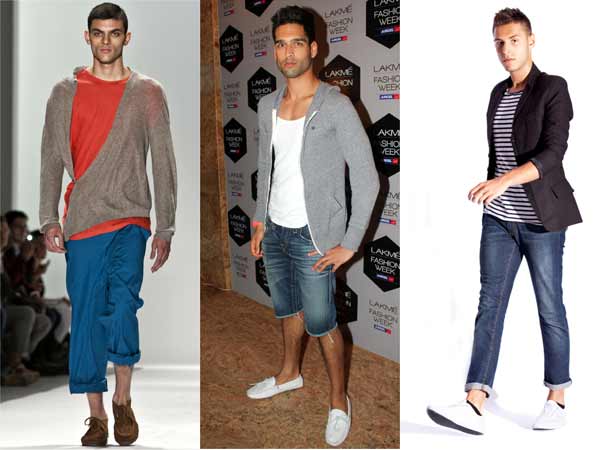 Monsoon is in so it is time to roll over your full pants men! There is a good news for stylish men for monsoon wear. Men's clothing style in this rainy season is heavy rain coats to save their dress from getting wet in the rain.
Thinking what to wear?
Take out your bermudas and harem pants. Time has come to change men's clothing from full formals and low waist jeans to simple shorts. Wear your slippers and cool men satchels with them to look stylish.
Right fabrics and colors are must to look stylish this season. The main intention is to keep your dress dry so opt for linen and cotton. Wear bright colored shirts and avoid light colors like white, cream, grey, sky blue etc in monsoon wear as the rain stains are visible easily.
What to wear in informal?
Loose t-shirts with funky tee and low waist bermudas with a water proof jacket is a nice informal look. Yellow, green and blue are nice colors to blossom your dull mood this monsoon season.
Things to keep in mind:
Take out leather from your monsoon wear closet. Avoid wearing leather pants or jackets. Leather is not water resistant so might get spoiled. If you don't have any other option then wear high quality leather materials. Don't forget to keep them clean. Wear new pair of socks daily to maintain hygiene and avoid skin infections. Steel and leather belt watches are a no-no in monsoon wear. Go for waterproof watches as they are expensive accessories and saving your watch in the rain becomes important.
Footwear
:
It can be from slippers to waterproof shoes. Try the funky colorful slippers and team them up with satchels. Remember to wear rough soul shoes and don't go for flip flop slippers as the surface is muddy and slippery which will leave stains on your dress. So, be ready to enjoy roaming free in the rain without bothering about your dress and shoes.
What is your thought on monsoon wear this season?
BY HARSHVARDHAN SINGH