A sharper display, wireless charging, quad-core processor, and rear-facing camera: Google's 2013 edition of the Nexus 7 proves you can get plenty of bang for your buck, even though its latest entry in the budget tablet market now exceeds that magical $199 price point.
But what's an extra $30 between friends? Google's new cost-of-entry isn't so much a price increase as an acknowledgement of success: You loved us at $199. You really loved us. So take our hand, and let us show you what we can really deliver for just a few dollars more.
Android fans have been waiting months for a hardware update from Team Google. Thecompany's I/O event in May was conspicuously lacking in tablet or phone reveals, but on Wednesday, Google finally pulled the curtain on the latest iteration of its flagship Nexus hardware. Though the Nexus 7 tablet bears the same name as its predecessor, its new look and long list of feature updates—including the much-anticipated Android 4.3—give it the aura of an entirely new gadget.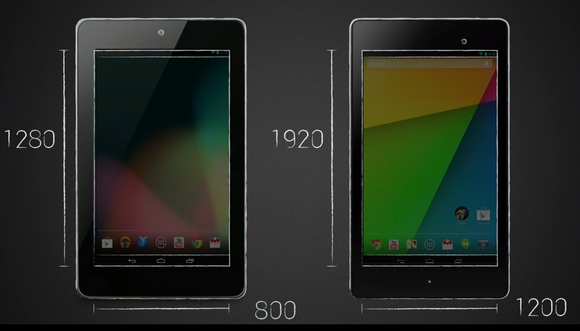 The only similarity between 2012's Nexus 7 and this year's model is its 7-inch diagonal screen size. Indeed, the two tablets are so different, they really should have different names. Google's new tablet is thinner and sleeker—Hugo Barra, vice president of Android product management at Google, explained that the side bezels were reduced by 3mm on each side so that the device would be easier to hold with one hand. Shaving off that 6mm provides a "much more comfortable grip," Barra said at the event.
Google also stuck with a pure black-on-black design with the same soft touch that Barra says "everyone loved in the original Nexus 7."
Today's announcements also pushed forth a new processor architecture for the Nexus 7. Rather than stick with Nvidia's quad-core Tegra 3 chip, the Asus-built device now features a Qualcomm 1.5GHz quad-core Snapdragon S4 Pro processor. It's the same chip featured inside the Nexus 4 handset announced late last year, though according to Android Police, initial Nexus 7 performance benchmarks show the processor performing just a bit better inside the tablet. This particular chip should help increase battery life, as well as speed up software multitasking. The tablet's RAM has also been increased from 1GB to 2GB to help support processing power.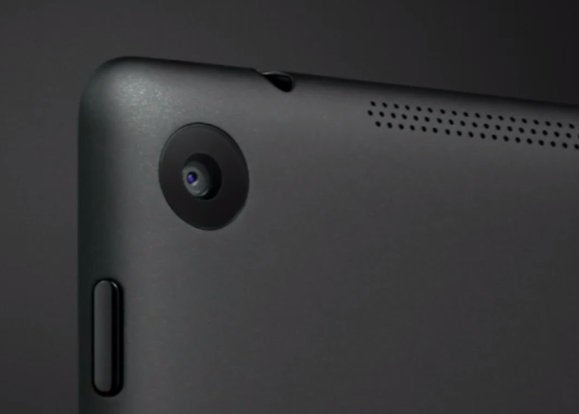 Photo-frantic users will appreciate that the new Nexus 7 adds a 5-megapixel rear-facing camera to the mix, complementing the front-facing 1.2 megapixel camera that was available in the original model. There's also a Slim Port on the back of the device that enables you to pipe 1080p video to your TV with an HDMI cable.
The new Nexus 7 will also be the first device to feature the 4.3 version of Android. The new OS version is still called Jelly Bean, and is merely an incremental update with the inclusion of features like restricted profiles for individual user accounts and Bluetooth LE support, a standard that makes Bluetooth connections more energy-efficient and thus less taxing on battery life. You'll also be able to take advantage of the new graphics capabilities—lens flare effects, richer texture and more—made possible by support for OpenGL ES 3.0.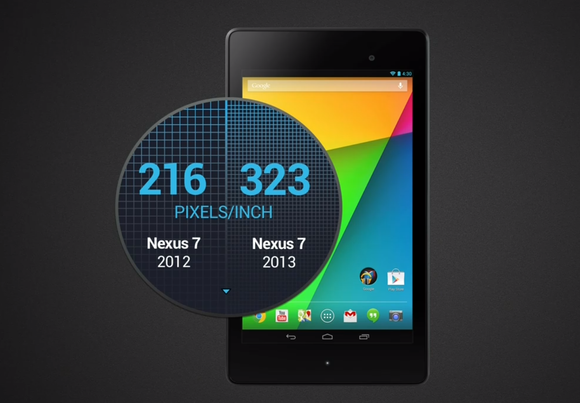 The Nexus 7's new 1080p display is also a huge improvement over the last generation. With a resolution of 1920 by 1200, and a pixel density of 323 pixels per inch, display sharpness is a big leap forward relative to last year's 216 ppi, 1280 by 800 display resolution. Applications, pictures, games, and movies will appear clearer and brighter, making the Nexus 7 a true contender among other entertainment-focused tablets like the iPad mini.
And to help add to that experience, the new Nexus 7 will feature dual speakers on each side of the device. Google teamed up with Fraunhofer, a German engineering firm, to integrate virtual surround sound for the onboard speakers and any connected headphones. Barra compared this new features to a "5.1 surround sound system… just using the device speakers or any pair of headphones."
Other hardware perks include the ability to wireless charge the device with an Qi-standardized wireless charger, a feature that is only available on a limited variety of Android devices. You'll be able to simply plop down the device on a compatible charging base and have it refuel overnight. The Nexus 7 will also have NFC capabilities, and unlike its predecessor, Google and Asus will only offer a 16GB and 32GB variant of the Android tablet, priced at $229 and $269, respectively. You can also pick up a 32GB LTE version for $349. Last year's Nexus 7 is now listed as "no longer available" in the Google Play store.
HARSHVARDHAN SINGH.