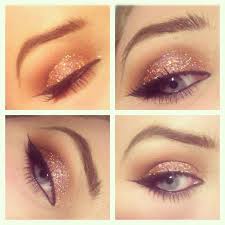 Jazzing up your eyes truly make them look irresistibly gorgeous.You might find it a bit difficult to pull off but heyyy it's not!Follow these easy steps to achieve the perfect glitter makeup:
1. First of all make sure that your eyeshadow and glitter colors look good together. The easiest glitter colors to match are gold, silver, black and pink.
2. Choose two or three brightcolors of eyeshadow. Apply them as usual. When applying the eyeshadow, take your time to make sure it looks good.
3. Apply gel or Vaseline along your lash line where you want the glitter to stick. Make sure that you apply enough, so that the glitter will stick well.
4. Gently apply your colored glitter with your Q-tip or glitter applicator. Do this right along the lash line. Take your time to do this neatly.
5. Apply glitter underneath your eye or on the corners of your eyes, if you wish.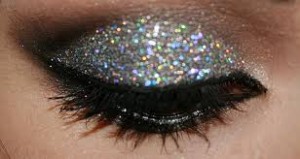 6. Apply two coats of basic black mascara. Alternatively, you might prefer to use a bright exciting color to spice it up!
7. Spice it up. If you're really keen to make your eyes glitter, put small rhinestones on the outside of your eyes or along the lash line.
8. If some glitter still remains on your face,then gently dabbing the masking tape on your face is an effective way to remove the glitter without disturbing your base makeup
9. Also instead of using regular eye glitter, buying glitter eye liner is a something you can do.As the glitter eye – liner will help you apply the glitter much easily.
 -MISBAAH MANSURI