Skyscrapers on one end stand heighten and tall,
With dirt and filth on the other, breeds a matchbox mall.
Insensitive and insecure are those huge hollow homes,
Which cannot be equated to our genuine little domes.
Small spaces don't matter, for it's about contentment and not joy,
Such are our fistful of juvenile joys.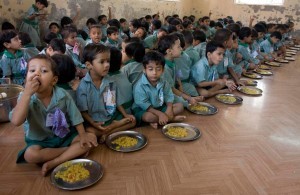 Glittering gold and dazzling diamond falls over yards of silk,
Our worn out wears are painted with mud, coal and stains of milk.
A merry to watch in the house of riches are the displays of the exotic fruits of fame,
But to sneak into the farmers and pluck them from trees is undoubtedly the merrier game.
Perceptions don't matter, for we don't show off our grace and poise,
It's just that we are fond of our fistful of juvenile joys.
Barbies and bats, dolls and cars, various plays for girls and boys,
Marbles, sticks, ropes and tiers come in our list of toys.
Fighting, comparing and competing for a turn,
Here together we play and together we learn.
Money lags don't matter, for we need no Ferrari or Rolls Royce,
All we adore is our fistful of juvenile joys.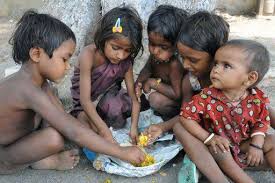 The gap of this divide widens like two opposite poles,
Wads of notes now have the power to even sell people's souls.
Life carries olive leaves in the mouth of a white dove,
Wealth and greed cannot get bigger than faith, compassion and eternal love.
Societies don't matter, oh rich lads and ladies, for once hear our voice,
Together let us all be happy with our fistful of juvenile joys.
– Anwesha Rath