Well there are many do's to follow in a job interview. There are many don'ts as well like, "don't take your pet along with you to the interview". The following are some don'ts that must be scooped out from your memory-deposits in your brain before you enter that interview room. In simpler words, these are strictly prohibited to be "uttered" in your face off with the interviewer.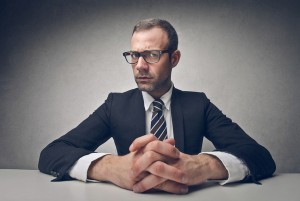 1. Too Much Honesty:
Let's face it! Everyone likes to feel honest but nobody would give a damn about someone else's honesty, unless it is a courtroom. But when it comes to a job interview, only highlighting yourself as honest is good enough, and not claiming yourself (with exaggeration) as to be one. Here are a few examples:
I want to start my own business but before that I think some job experience will help me.
I tried in some more companies, but it didn't work out well, that's the reason I am here!
I was interested in marketing first, but there's not enough money it. So I decided to take a stint.
Sales Job is not my cup of tea, that's why I am here.
Consequence: The interviewer will lose interest in asking you further questions. The interview will gradually slide down on a decline.
2. Too Much Demanding
Everyone knows it's one of your first few interviews, but there are millions of efficient and less demanding workers like you waiting for a job desperately. On the other hand, no one likes demanding people. They display the characteristics of both over-possessive and self-possessive. The following are a few examples:
If I join, I will at least need two weekly offs.
 I will need a cubicle for myself.
 I think that the salary you're offering will not be enough!
 A private car will be good enough.
 My brother is getting married in the next month; will I get a few leaves?
Consequence: Straight away, "thank you, goodbye".
3. Too Much Flattering 
The interviewer probably knows you've shown up because you need the job. One of the very popular proverbs states that "flattery takes you nowhere", and if you are habitual to use it, use it logically rather than just with the motive of glorifying somebody. Make sure you don't end up using these lame lines of buttering:
 I think I have seen you somewhere.
 Job in this company is like my dream come true..
 You look like my uncle!
 This company is absolutely perfect for me.
Consequence: A sensitive interviewer will get conscious and wait for your flattering lines much often in the span of interview. A non-sensitive interviewer will make you sensitive towards interviews.
4. Too Much Imposing
The truth is expansive words like principles, ethics and morality are better off limited to the subconscious level of minds. The provocative surroundings can utmost urge you in bringing them to the conscious level, but restrain yourself in saying those in an interview unless it's a part of the drama competition. The un-fundamentals:
I am always honest!
I have come to prove myself.
I know how it feels to fail.
I like those who don't lie.
I am the man of ethics and principles!
Consequence: Interviewer: "The job is too small for you, son!"