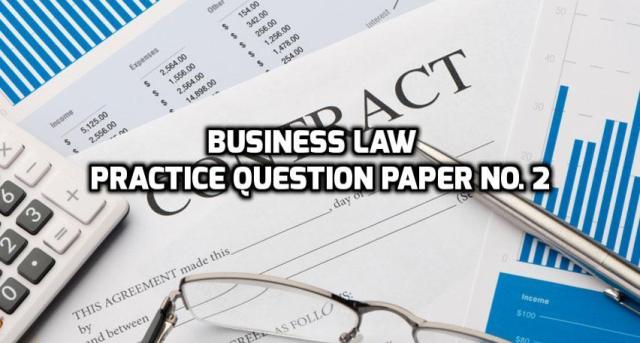 Business Law refers to the law involved in forming and running a business. All he laws that govern how to start, buy, manage and close or sell any type of business is known as Business Law.
Here we present Business Law Practice Question Paper No. 2:
Define Partnership. Enumerate various modes of dissolution of partnership firm.

Define Consumer under Consumer Protection Act, 1986. Explain the Central Consumer Protection Council.

Define Memorandum of Association with its contents.

Explain the following concepts – Caveat Emptor, Cheque and Doctrine of Ultra Vires

Discuss fully "Agreement made without consideration are void". Are there any exceptions to the rule? What are they?

A company X entered into contract for the purchase of Xerox machine with company Y. The company X received the machine along with 3 years warranty and paid the amount by cheque to company Y, which is dishonoured. The machine was not working as per the instruction as some parts were missing. Answer the following questions based on the above case:
a) What are the remedies available to company X with respect to dishonor of cheque?
b) Is company Y liable to company X for the machine sent? Why?
c) Explain the concept of sales by warranty if this principle is applicable in this case.
d) What legal remedy would you advice to both the companies?