The dream city of Mumbai is known for so road side food stalls located at Girgaum Chowpatty,Nariman Point and other Khau Galli's. Famous Indian street food includes Panipuri, Bhelpuri, Sevpuri and Dahipuri, apart from this streets of Mumbai is also famous for Vada Pav,omelette-pav,Misal Pav and bhuji-pav along with the Chinese food items.
VadaPav
The most popular spicy vegetarian fast food dish in Maharashtra, Vada Pav also known as Indian Burger is one of the very famous Street food of Mumbai.
 Kebabs
Road side stalls or Kebab Corner in the street of Mumbai are known for their pleasant taste and spice. Mohammed Ali Road is well famous for Seekh kebabs in the city.
PavBhaji
The finger-licking pav bhaji from the streets of Mumbai, available within a minutes. Sardar Pav Bhaji at Tardeo road junction is popular in Mumbai city.
BombilFry
Bombil fish fry or Bombay Duck Fry is a seafood in the city of Mumbai, Delicious bombli fish is the must try street food of Mumbai.
PaniPuri
The yummy and mouthwatering Panipuri is known as Golgappas in Northern India, is a popular street snack in Mumabi as well as in Indian subcontinent.
Chicken Tikka Rolls
Bademiya is the best place in Mumbai for Chicken Tikka Rolls or any other non-veg dishes such as the kebabs, bheja fry and mutton rolls.
Bhelpuri
Bhel puri is the most common all-day snacks item,easy to make mixed with tamarind chutney and eaten on the spot food item famous at Chowpatty Beach.
Kheema Pav
The delicious masala kheema with pav at street of Colaba's is another must have street food item from dream city of Mumbai. Kheema Pav and bhurji pav are two popular fast food items in Mumbai during the day time.
Channa Bhatura
Chana Bhatura gained popularity as a street food in India, It is one of the best in Mumbai city. Cream Centre of Mumbai is best place to Chole Bhatura or Channa Bhatura.
Misal Pav
Misal pav is one of the famous street foods available in Mumbai, very popular amongst the Maharashtrians as a breakfast dish, also one of the best in Pune.
Sandwiches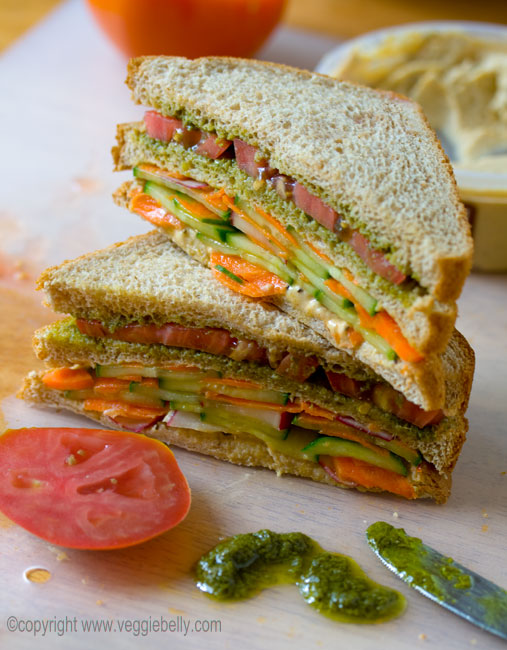 Sandwiches in Mumbai are the best road-side food bursting with flavours and variety. A Delicious Sandwich in Mumbai will make your day.
Crab
Crab is another must try seafood available on the streets of Mumbai, a butter garlic crab will do the rest. Along with other Seafoods bangda,pomfret and Pomfret Tawa Fry, Crab can be counted as one of the street food.
Idli-Dosa
Idli and Dosa are two most popular south Indian dishes available in the streets of Mumabi,Pune and other cities of India.
Kanda Poha
Kanda Poha is famous as one of the best Mumbai street food along with Sabudana khichdi and Upma as other breakfast item.
Dhoklas and farsaan
Dhoklas or 'khummun' are made from the fermented batter of chickpeas, steamed and then spiced with chillies and ginger and tempered with mustard seed. Farsan, a broad term for savories encompassing sev and gathiya are crisp deep-fried spiced gram flour creations in pasta like shapes.
Falooda
A rich drink, Falooda is vermicelli mixed with milk, almonds, pistachios, a bit of rose syrup and the key ingredient — sabza or basil seeds — topped up with two scoops of ice cream. Refreshing, rosy, energizing, it's a great pick-me-up on a hot day.
Frankie
A juicy naan bread with an egg coating and stuffed with mutton or chicken, rolled up and sprinkled with a unique masala that gives it its special flavor. The vegetarian option does not use eggs and the stuffings include paneer or potatoes.
Gujarati thaalis
In fast food terms think of this as a large, all-you-can-eat combo platter served on your table in unlimited quantities. Three types of farsan (fried snacky things with a plethora of chutneys). Two kinds of vegetables. Two kinds of lentils. Dal and kadhi (hot and spicy yoghurt based dish). A basket of different rotis and puris (deep fried breads). Two kinds of rice. Two desserts. And mango pulp which the purists pour all over the plate.
Modak
A Maharashtrian sweet prepared during the Ganesh festival, modak is offered to Lord Ganesha, because it is his favorite sweet. Wheat flour dough kneaded with milk, stuffed with grated coconut and mixed with sugar or jaggery. Shaped like a teardrop and steamed or fried.
Puran poli
A festive dish made by Maharashtrians and Gujaratis especially during Holi (to celebrate the end of the winter season) and Dussehra (to celebrate the triumph of Lord Ram over the demon Raavan). It is made by simmering chana dal (yellow gram) with sugar or jaggery (molasses or gur) till it dries up, and then hand-ground to smoothen it out. Nutmeg and cardamom powders are the flavorings. Palm sized balls of this paste are stuffed into wheat flour dough and rolled out to be roasted on a tawa frying pan with a little ghee (clarified butter).
Ragda pattice
This twin delight is a combination of ragda, soft spicy rugged flavored chickpeas, and pattice, mashed potatoes shaped into fat patties and fried. The ideal way is to eat it is to crush the ragda with the pattice and pile on the accompaniments — finely chopped onions, tangy tamarind sauce and fiery green chutney.
Sabudana vada
For Maharashtrians, sabudana vada is the traditional 'upvas' or fasting food. Sago is soaked until it puffs up. Crushed boiled potatoes, green chillies, coriander leaves and salt are kneaded in. They are then fashioned into palm-sized patties and deep fried until they turn crisp and golden.
Samosa
Lovingly shaped into triangles and deep fried, these calorie busters are worth the one week that you'll need on the treadmill to work it off. But a samosa can also give you heart at that last leg of your day when transport is not in sight, it's dark and there's a long way home.
Sizzlers
As kids, a sizzler was part of the "growing up in Mumbai" experience. The sight of a sizzler arriving at your table, like an old steam engine, sizzling and steaming and spluttering to a halt in front of you, was an exciting experience. A combination of grilled meats and vegetables served on what looks like a hot chunk of black iron, with a side of mashed potatoes or fries and gravy.
The history of food in Mumbai is closely linked to the growth of this city from fishing village to megapolis. As wave after wave of immigrants from all over the country came with dreams of gold in their eyes, they brought their culinary treasures with them. The result? A smorgasbord of cooking styles and street food that reflects our cosmopolitanism as much as our carbohydrate-fueled work ethic.