"Don't read success stories you will get only messages,
read failure stories you will get some ideas to get success"
"Dreams are not what you see in your sleep,
dreams are what which doesn't let you sleep"
"You have to dream before your dreams can come true"
"It's very easy to defeat someone, but it's very hard to win someone"
these are the quotes and beautiful messages by The Missile man of India, the former people's president, the pure Indian and the most humble human being DR. A.P.J ABDUL KALAM.
Still unable to believe to the a typical and great seminar of Sir APJ ABDUL KALAM which I fortunately got to attend on the 8th of August, and that I really saw this humble man on earth so close to my eyes. And hear his gentle voice from my ears. I want to share this inspiring experience with you all.
I went there with an empty bag and was sure when I return there will be a new ignited spirit in me, which will give me a reason to change my life. I will feel happy from heart and believe my existence as a human and be proud to be on the mother earth.
The seminar started with some really galvanizing videos of inspiration which had all my hair standing. The entire biography of Dr. APJ ABDUL KALAM was acquainted in front of us and my belief and respect towards him grew stronger. The man who came from a modest family and was tagged as an average student has made a huge name on earth and now spilling the globe and inspiring billions of heart. I knew I am at the right place today and was ready to ignite, get inspired and innovate myself. This was the theme of the seminar. The whole big crowd was waiting for the man to arrive and as HE ARRIVED –
It felt as a statue of pure humbleness is walking down. I was jerked. He started pouring his greatness right from the time he entered. I had never heard so loud and respectable applause ever. I drunk in the truth that yes, I saw Sir Abdul Kalam. We all were seated and I was waiting eagerly for the man to rule the podium and hear his voice in real. The felicitation and formal greetings luckily ended and the curtains rose down giving fire to my excitement. After the curtains rose again making the stage visible – and there he was on the podium and the blessed mike in front of him. The audience broke into huge applause again and Sir inaugurated to speak..
Greeting everyone in his humble tone and inspired voice sir started with a story to share:
He said – as I woke up in the morning and was preparing for your seminar I saw the sea. The huge sea. I remembered when I was small; I use to spend quite a time with the peaceful sea. The Arabian Sea. As a teenage when I see the huge sea I feel to go and challenge him. I will go to swim. The tide who is another courageous fellow also takes the challenge to defeat me. The nature cannot be challenged. He will defeat me with his huge power. Laughingly, he said this just came to my mind and I felt like sharing my imaginations with you all.
He moved on remembering some great people and their inventions, the light which we have here, around us, is invented by whom? Who invented the bulb? He asked. The crowd said Thomas Edison. Sir said how oil lamps were used and then Thomas wanted to electrify the world.
We all use the telephone today which helps us communicate. Who invented the telephone? He asked. The crowd shouted Alexander Graham Bell. He said her mother was a deaf. He wanted to invent something which helped the world hear and say from distance.
Anything heavier than air cannot float or fly on air was the conclusion. Then 2 people changed it. Who are they? He asked. All answered The Wright Brothers. The creator of the aircraft.
I want you all to write down on a paper, or a book – WHAT WILL I BE REMEMBERED FOR? Will you do this for me? He asked. The audience agreed joyfully to the humble man.
He further said – today we use telephone, bulb, aircraft we remember Alexander Graham Bell, Thomas Edison, Wright brothers. We remember them. Today we are remembering them. Everything we do in life has a purpose. Until we don't know what the purpose is we cannot achieve success.
So write today – WHAT WILL YOU BE REMEMBERED FOR? …..One day this page, the piece of paper will be added to the history of the world.
Now when you are small the school going children, imagine it – I will say you the 4 phases.
The 1st is the school going child.
The 2nd is the teenager.
The 3rd is the adult.
The 4th is the leader.
The child will say – what will you give me?
The teenager will say – I will do it alone
The adult will say – let's do it together.
The leader will say – what can I give you?
Imagine the journey from Give me – to – what can I give you …
Sir then told how everyone must be unique in life. To follow themselves. And asked the crowd how many of them wanted to be unique. There were no hands down. Everyone wanted to be unique. Sir said everyone will say you to become like this, like your neighbor or any other fellow. They won't make you – yourself. They will always want to make you like others. You be THE UNIQUE – THE UNIQUE YOU! Now to be that you will have to –
1. Have young mind and heart.
2. Acquire knowledge
3. Work hard
4. Perseverance.
PROBLEMS? Face and finish them. Don't let your problems captain you – YOU CAPTAIN YOUR PROBLEMS! DEFEAT YOUR PROBLEMS AND SUCCEED.
We all are born with wings – so we have wings and we have to fly – touch the sky.
YOU ALL WANT TO FLY?? LET'S FLY!
We all repeated the poem after SIR …
I m born with potential
I m born with goodness
I m born with ideas and dreams
I m born with greatness
I m born with courage
I m born with confidence
I m born with wings
I am not meant for crawling
Because I have wings
I will fly, I will fly, I will fly….
Nothing can happen best then this. Repeating this golden words after him – was an inspiration itself. I felt alive! He said – Your wings are on fire. Your mind is on fire. And I really felt the fire in me!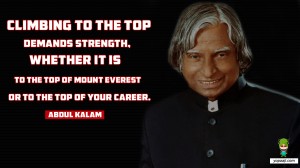 Sir further said about his visualization of India 2030…about the pollution free environment and the problems India would eradicate.
Again he stressed on to write – WHAT WILL I BE REMEMBERED FOR? And we could ask our questions and doubts to him at – [email protected]
The seminar was concluded beautifully with an oath. The youth oath.
– "I will have a goal and work hard to achieve that goal. I realize that small aim is a crime. Small aim is a crime. Small aim is a crime.
I will always be righteous in the heart which leads to beauty in the character; beauty in the character brings harmony to the home, harmony in the home leads to order in the nation and order in the nation leads to PEACE IN THE WORLD.
I will work with integrity and succeed with integrity.
I will be a good citizen of the country, a good member of my family, a good member of the society, a good member of the nation and a good member of the world.
I will always try to save or better someone's life, without any discrimination of caste, creed, language religion or state. Wherever I am a thought will always come to my mind. That is" what I can give?"
I will always protect and enhance the dignity of every human life without any bias.
I will always remember that "Let not my winged days, be spent in vain".
I will always work for clean planet earth and clean energy.
As a youth of my nation, I will work and work with courage to achieve success in all my tasks and enjoy the success of others."
With this, the amazing seminar came to an end raising a sense of belief and trust in me. It made my life more meaningful. Reciting the oath after him with thousands of people – was a special and beautiful feeling.
This day is truly one of the most memorable days of my life.
– SANGITA MAITY