Words fail to describe this megastar of Bollywood. Born on 11 October , 1942 this 71 year old actor has acted in more than 180 films. In his career of more than four decades, Mr. Bachchan has won many major awards. Considered the most successful man in the film industry, he has given some outstanding performances and hits. It is very difficult to choose just few of the films as all his movies are worth watching.
Still, here is a list of 5 must watch of Big B –
ZANJEER: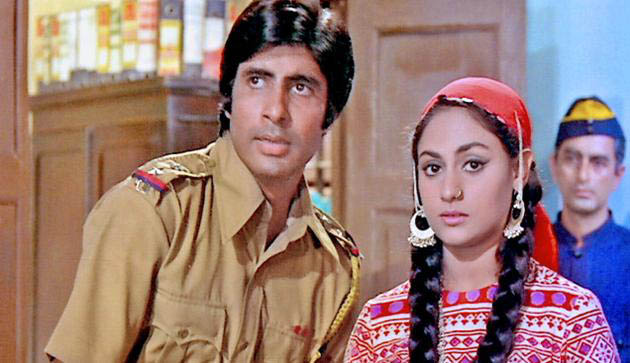 When all the other movies were romantic, Zanjeer where Mr. Amitabh plays the role of an aggressive and hot-headed   inspector (Vijay), was something different for the audiences. Also, this role had it's hand in giving BigB the title of 'Angry Young Man'. Story of a police inspector who wants to eliminate crimes and misconduct of a holigoon, this movie was a ground- breaking point for hindi cinema.
DEEWAAR (1975)
In this crime drama, the plot is focused on two brothers who follow opposite paths. While Ravi (Shashi Kapoor) is a law-abiding police, Vijay (Amitabh) becomes a smuggler to acquire wealth and status. The difference in their values further increases the  wall between them. Watch this movie where Amitabh plays a great role as the anti-hero and lives up to his image of 'angry young man'. Also the exhilarating story-line makes it worth your while.
SHOLAY (1975)
Who needs to be reminded of this epic masala film? It is truly one of the greatest films of all times. In this film Amitabh plays the role of a delinquent called Jai, who along with his associate Veeru (Dharmendra) are assigned on a mission by Thakur Baldev Singh (Sanjeev Kumar) to catch the notorious bandit Gabbar Singh (Amjad Khan).Sholay is honestly one of the most entertaining  films you will see in Bollywood! Amitabh especially stands out towards the end of the film when he is handling Gabbar's associates on his own.
We also get to see the funny side of Mr. Bachchan in this film, when he thwarts Veeru's attempts at wooing Basanti (Hema Malini), thus offering the audiences more than just action movies.  Although this is one of the defining films of Amitabh's career, the rest of the lead actors in this film were also equally brilliant. Hence, it is difficult to pick out one particular performance as they all displayed  range of personalities, which adds much needed spice to this film.
KABHIE- KABHIE (1976)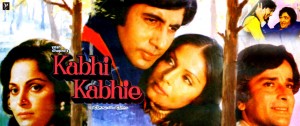 I this film, Amitabh enacts the role of a poet named Amit who falls in love with Pooja (Rakhee Gulzar). They both drift apart as Pooja is duty-bound to marry Vijay (Shashi Kapoor) due to her parents' wishes. They both cross paths again when there is a generation change and their children are now the ones taken aback by the power of love. You will be completely blown away with Amitabh's performance when you see how his character reacts to his wife's previous doings.
 Kabhi Kabhie is a beautifully composed film which contains a progressive structure and narrative that will leave you impressed for sure. Moreover, at a time when the audience was besotted with seeing Amitabh in violent films, he was not afraid to show his romantic side and took a successful risk with this particular film. His character is both romantic and dramatic. 
SILSILA (1981)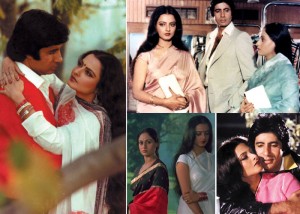 Silsila is based on a writer named Amit (Amitabh) who falls in love with Chandni (Rekha), but are soon separated.  Amit discovers that his brother and Air Force Pilot Shekhar (Shashi Kapoor) has died in a plane crash. He therefore feels compelled to marry Shekhar's lover Shobha (Jaya Bachchan) who is carrying Shekhar's child. Shobha loses the baby after she and Amit are involved in a car accident. Amit and Chandni meet again at a hospital where he and Shobha are being treated from the accident by her husband Dr Anand (Sanjeev Kumar).
Soon both Amit and Chandni profess their deep love for each other and an affair begins whilst they are both are married to other people. Amitabh gave a solid performance in this film and he managed to strengthen his romantic persona as a result of him playing the leading man in Silsila. The on-screen chemistry with Rekha and the great melodies in this film such as 'Dekha Ek Khwab' and 'Yeh Kahan Aa Gaye Hum' only helped to reinforce this. Watch this film for the romantic side of Amitabh Bachchan.
Its not just these 5 movies, Mr. Amitabh Bachchan has given many such remarkable performances. His other movies include Kala Pathar, Angneepath, Don, Black, kabhi Khushi Kabhi Ghum, Mohabatein, Paa,  and the list goes on and on. Its really difficult to choose any five or ten movies from the list of amazing movies.
-Harshali Amin