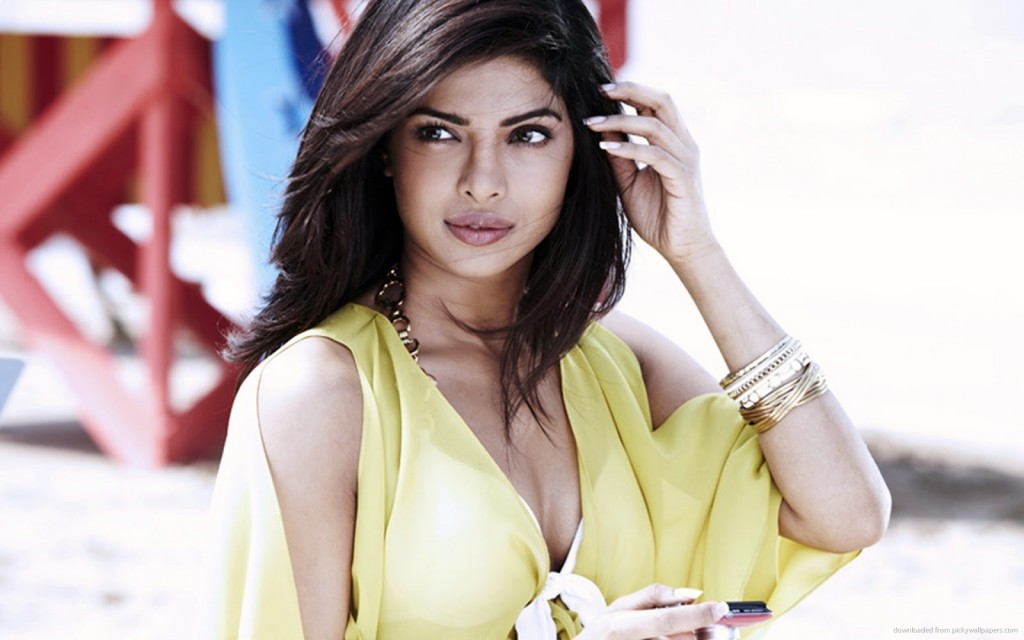 Initially been famous for being Miss World Paegant of 2000, now an Indian actress Priyanka Chopra is know as a successful international celebrity as well as an artist. She has also been nick named as PeeCee and Piggy Chopps. She was born on 18th July 1982 in Jamshedpur to physicians in the Indian Army and because of her parents' profession she never had a permanent city to live and has dwelled from Jamshedpur to Barelli and also to USA. She is not just another ordinary actress but is considered to be among the top heroines of Indian Cinema. She is known for her amazing acting skill, her hard work and also her singing has captured the hearts globally. Priyanka although wanted to study further and become an engineer but then chose to be an actress instead and debuted with a Tamil film titled Thamizan in the year 2000.


Later she made her in Hindi cinema debut with the film "The Hero-Love Story Of A Spy".
Here are 13 Reasons why we should be proud of our DESI GIRL Priyanka:
Having no God-Father she is a God Father to many
Unlike many heroines Priyanka has had no one from her family in the industry but on the basis of her talent and hard-work she is an inspiration to many. She is considered to be God-Father and inspiration to all her sisters including young actress and much appreciated Parineeti Chopra.
The Chopra sisters-

She was crowned as Miss World 2000 and Miss World Continental Queen of Beauty-Asia and Oceania and had made Indians all across the globe proud.

http://www.youtube.com/watch?v=rlBcUVPegC8
In the era where people crave to lighten their skin colour here she is one of those few people who isn't ashamed of being dusky and dark skinned instead is proud of her skin.
Priyanka Chopra played the role of Indian Boxer and Olympic Bronze medalist MC Mary Kom. For the movie she dropped her glamorous avatar and turned into a sportswoman not just by dressing but also physically as she had undergone a strict regime and workout schedules that is completely challenging for any non-athlete to follow and had physically also developed a similar body as that of the boxer Mary Kom just for the movie.
Here is a video showing Priyanka's hectic training
Priyanka's Salvatore Ferragamo Museum Invitation
Priyanka is the first Indian and among few international celebrities to be invited to put her Ferragamo shoe in the Italian Ferragamo museum.
Priyanka does her stunts by herself and rarely takes help of a stunt-woman. She loves doing action sequence and has also featured as a host to a stunt show "Khatron Ke Khiladi".
http://www.youtube.com/watch?v=Pcu14yC5Lio
Hritik's view on Priyanka's skills
Nobody can doubt on Priyanka's acting skills. She has portrayed various characters with her outstanding acting skills. May it be Jhilmil from Barfi or Saat Khun Maaf or even the twelve challenging different roles of What's your Rashee or even the struggling model Meghna Mathur, she is excellent in all of them.
What's you Rashee-

Fashion-

Barfi-

Dostana-

Gunday-

and the list seems to be longer…
Priyanka-The International Artist
Priyanka's first singing was in the song "Ullathai Killadhe" in the Tamil film Thamizhan (2002) and in Hindi cinema she has recorded an unreleased song for Bluffmaster and has sang the song "Chaoro" from Mary Kom.
But the most amazing songs of her are her international hits "In My City", "Exotic" and recent "I Can't Make You Love Me" which have been internationally successful.
The all-rounder actress has also tried her hands in the writing field and Chopra began writing an opinion column, "The Priyanka Chopra Column", for the Hindustan Times in 2009. In 2012, Chopra wrote in August for a column published in The Times of India titled "No woman in Mumbai feels safe any longer", and expressed her views on the same.
Priyanka-The Social Server
Again being an all rounder how can she not be good in social service? She has worked for various charities and has contributed especially for women empowerment and girl education. She has worked with Save Girl Child, UNICEF, Pearls Wave Trust, etc. She was appointed a UNICEF Goodwill Ambassador for Child Rights on 10 August 2010.
UNICEF representative Karin Hulshof said, "Priyanka Chopra is equally passionate about her work on behalf of children and adolescents. We are proud of the work she has done with us so far on child rights, and we are thrilled about all what we will be doing together so that no child gets left behind."
Priyanka's view on women and current exploitation of women-
Priyanka's performances have driven her to a position which is high to achieve especially in an industry dominated a bit less than male by male stalwarts. Her achiements are as follows:
National Film Award for Best Actress for Fashion (2008)
Filmfare Awards:

Best Female Debut for Andaaz (2003),
Best Performance in a Negative Role for Aitraaz (2004),
Best Actress for Fashion and
Critics Award for Best Actress for 7 Khoon Maaf (2011)
and many other awards too.
12. Priyanka-The Dedicated Devotee of her Work
The unstoppable lady didn't pause even after her father's death and didn't take a break instead just two days after Ashok Chopra's death Priyanka started the movie Mary Kom and said that she is now worked twice harder so as not to get depressed or be sunk in the memories of her father.
http://www.youtube.com/watch?v=tH0ZxamvIwQ
13. Intelligence
Priyanka was crowned as Miss India in the Year 2000 with Dia Mirza and Lara Dutta. In the video, Priyanka's answer to Shahrukh's question proves her wit and intelligence.
Priyanka's Childhood pictures-


The following two tabs change content below.
A first year management student from Mumbai.
Latest posts by Shreya Karania (see all)