Goa is not only famous for its beaches, but also for its carnivals and old churches. It's a perfect destinations for fun lovers. Goa has  always been a popular haunt for international tourists much for the vibrant nightlife, cruises, and beaches..
Dona Paula :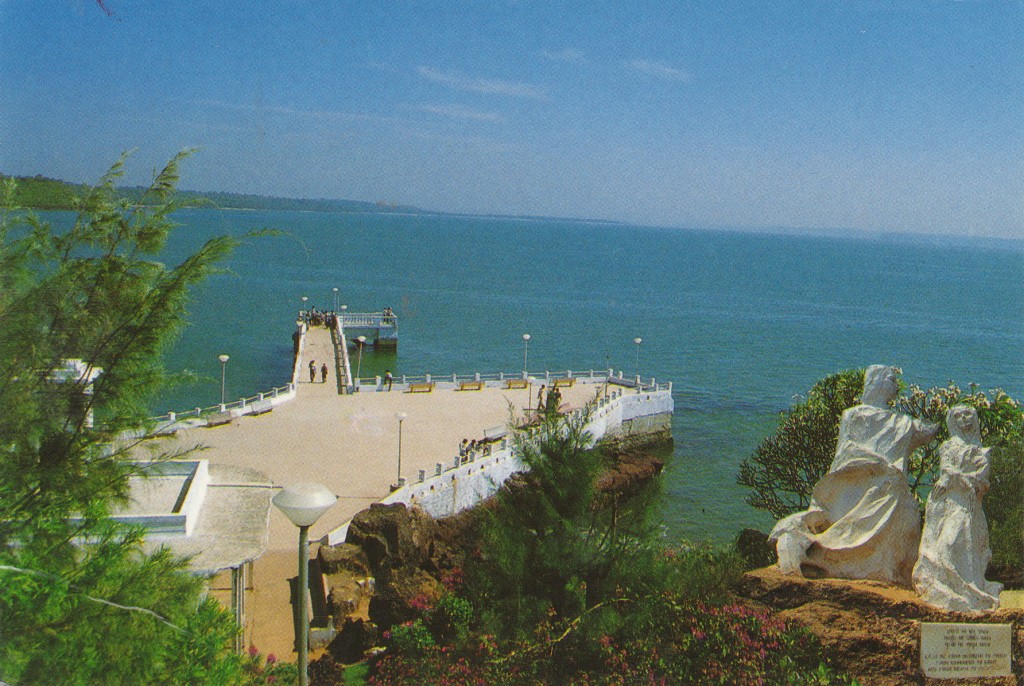 Several tourists as well as locals guided by this myth visit the beach for a glimpse of Dona Paula. An ideal holiday spot for tourists and locals alike this beach is also known as the Lovers Paradise. This idyllic rocky tourist attraction lies at the spot where the Mandovi and the Zuari rivers meet the Arabian Sea.
Calangute Streets :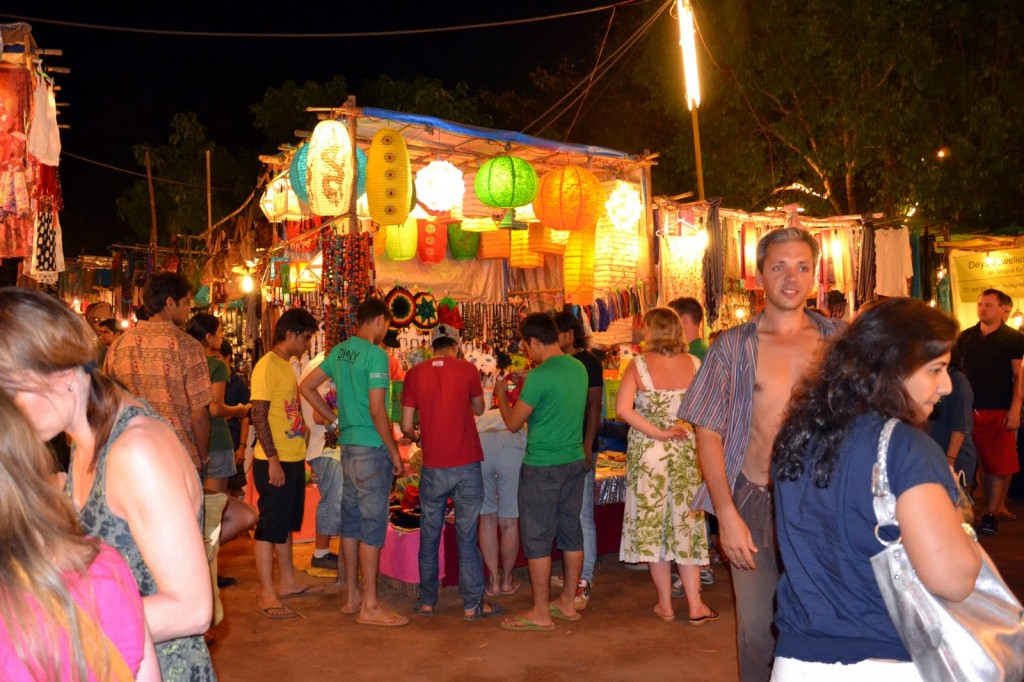 Calangute Baga lane is one the best shopping place where you can find fashion jewelry, silverware, silver jewelry and a lot of other interesting stuff. The street has an art gallery which showcases modern art and metal forms. The streets are always crowded and its always best to hire a two-wheeler and ride along. The lane is full of Restaurants, Cafe's & Night Clubs. The famous Tito's is also located on this street.
Fort Aguada :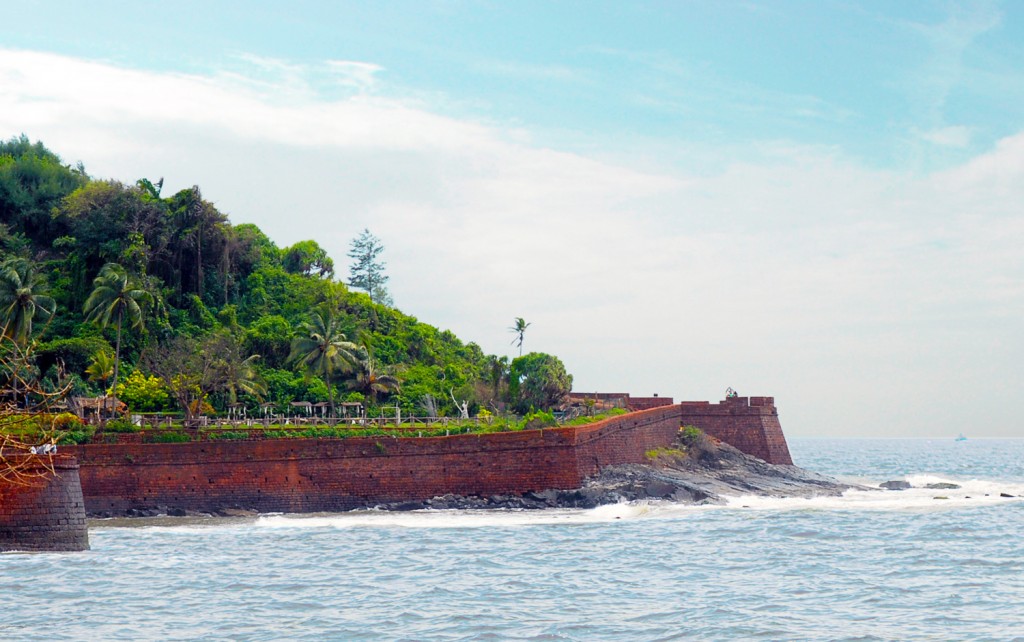 It is one of the finest beauties.The view from climbing up the spiral staircase, up the light­house, is ecstatic. Adjacent to the Fort is a newer lighthouse-cum-vantage viewpoint. Interestingly, the lower portion of this fort happens to be the largest prison in Goa. You may like to pay a nominal fee to climb to the top for a delightful view of the Arabian Sea.
 Old Goa Churches :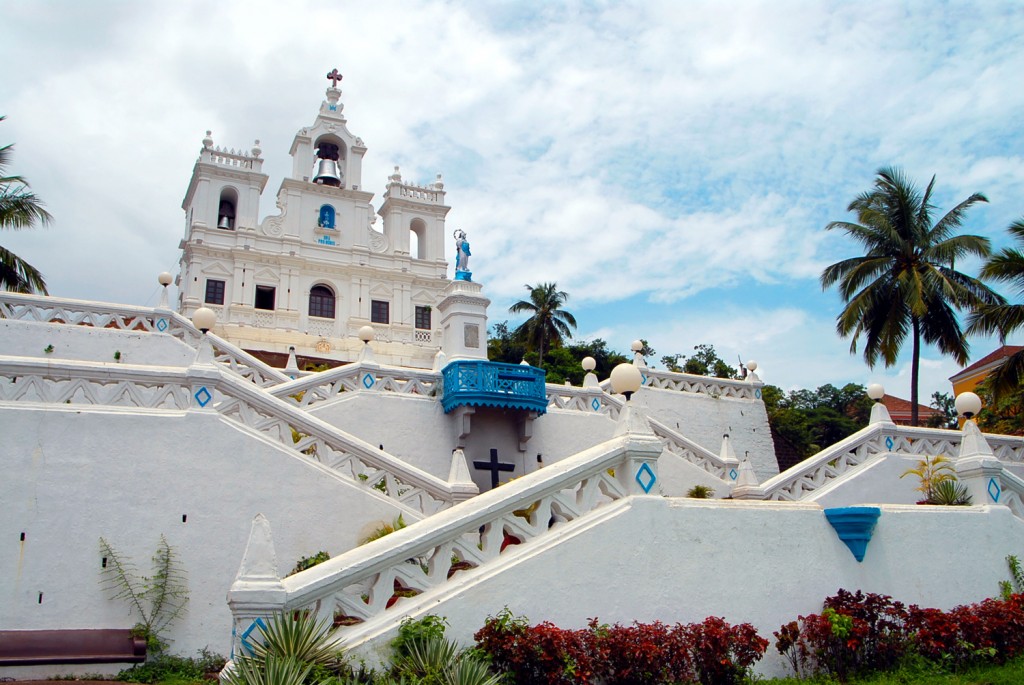 The Old Goa location is a UNESCO World Heritage Site, also known as the Old Capital of Goa during the Portuguese Regime. The richness and beauty of the churches in Goa draw lots of eager crowds. In fact, Goa churches are an integral element of the destination's sightseeing attractions. Amongst these numerous famous churches in Goa, some of the most well known ones are Basilica of Bom Jesus, Church and Convent of St Francis of Assissi, Se Cathedral, and Church of St Cajetan.
Palolem Beach :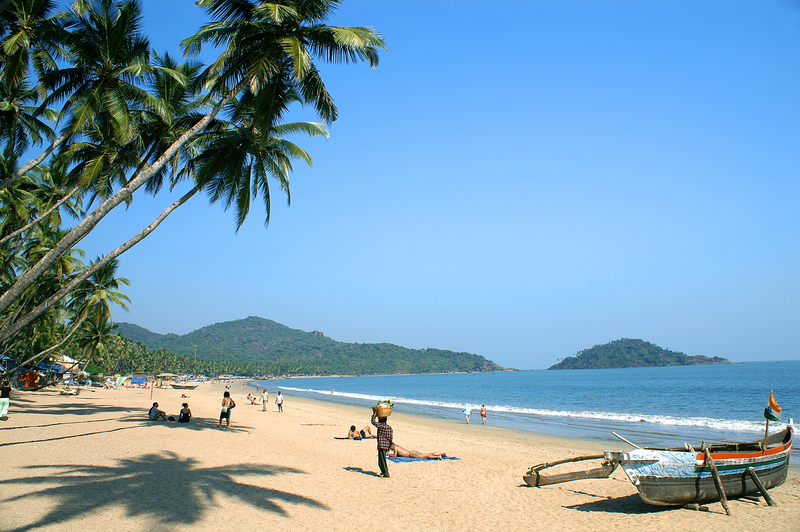 A scenic beach in extreme south Goa with scenic rocks and islands off its shores. Picturesque Palolem Beach, enclosed by a thick forest of coconut palms in far south Goa, is arguably the state's most beautiful beach. This mile long, shady, semi-circle shaped beach continues to grow in popularity every year, and it's become very lively with the diverse crowd that it attracts. Many of the cottages are right on the beach, facing the sea.This beach gives a Miami feeling.
Panjim City :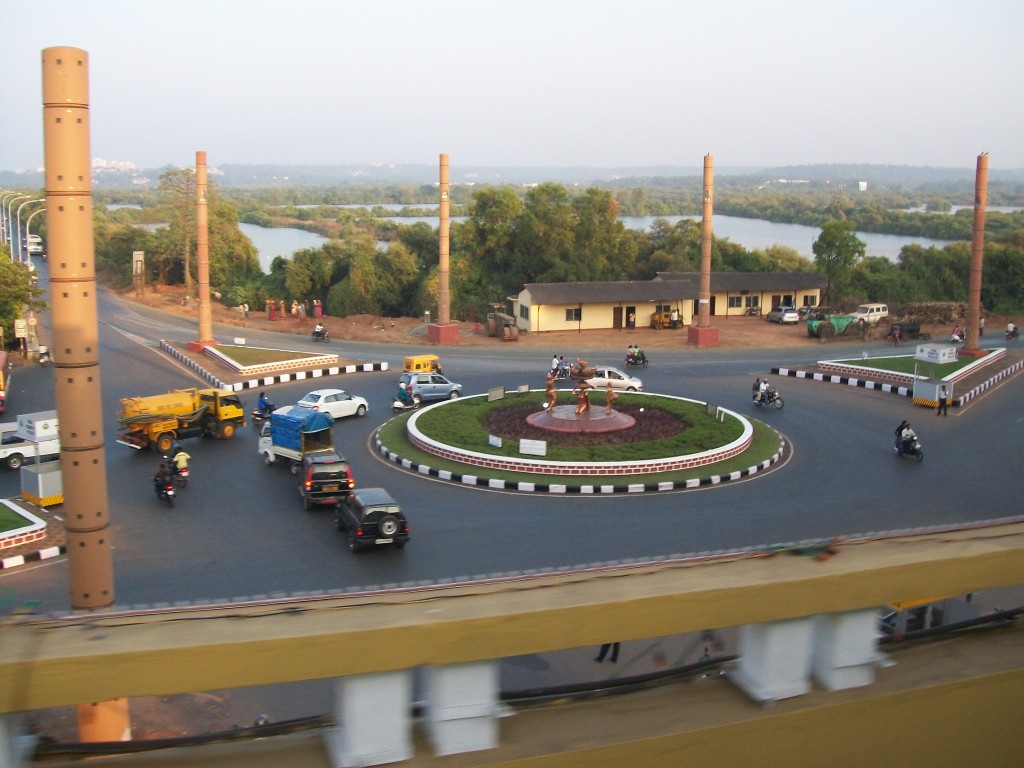 The Panjim town has preserved its Portuguese heritage remarkably well and parts of it still consist of narrow winding streets, old houses with over hanging balconies, red-tiled roofs and numerous small bars and cafe's. The "Azad Maidan Square' houses a beautiful pavilion with classical Corinthian columns and is a place for political and cultural programmes. The Capital city is placed right on the banks of the river Mandovi which brings about its own charm & sense of vibes.
Shri Mangeshi Temple :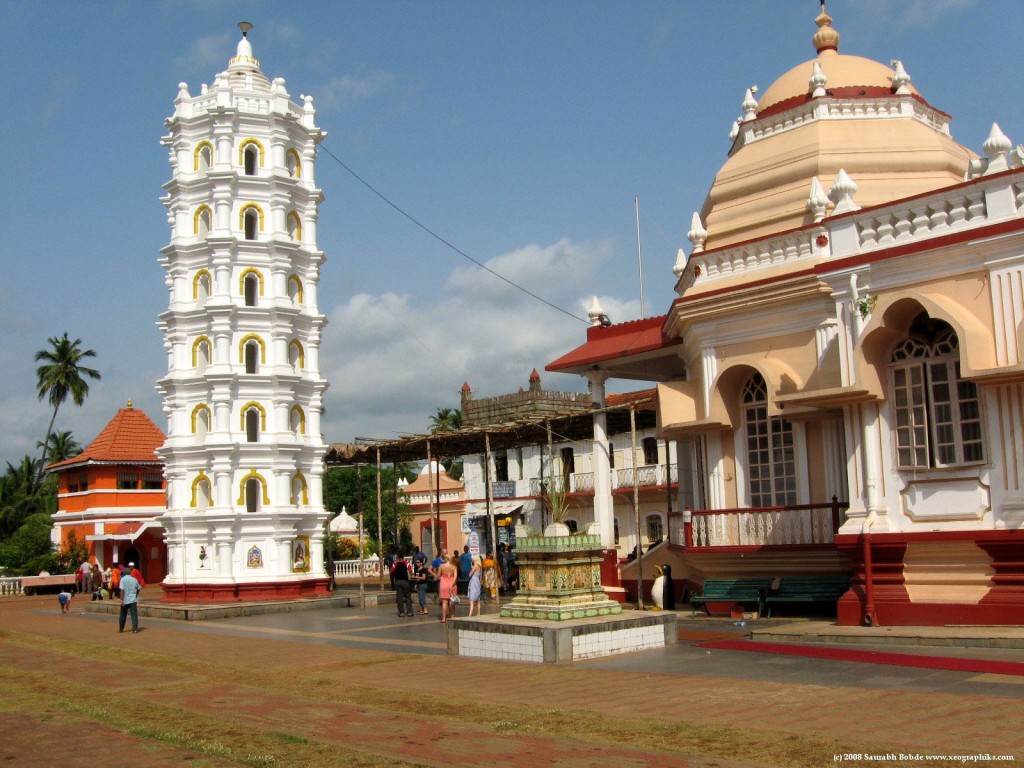 The temple of Shri Mangesh is set amidst natural beauty and pleasant surroundings. Mangeshi, which is a little village along Goa's Panaji-Ponda road is a point of pilgrimage for hundreds of tourists from all over India and abroad. One of the beautiful temples dedicated to Lord Siva & also considered as one of the most important temples in Goa, with a typical Goan Hindu Style of Architecture.
Majorda Beach :
Majorda beach you can walk for miles on marvelous flat uncrowded beach that runs north to the cape of Bogmalo. Majorda holidays are set among lush green countryside and paddy fields, with coconut palms swaying in the afternoon breeze. These are the classic ingredients of holidays in South Goa that make holidays in Majorda so unforgettably special. It has been one of the most popular beaches of Goa, and its popularity lies in its serenity.
Cansaulim Monte :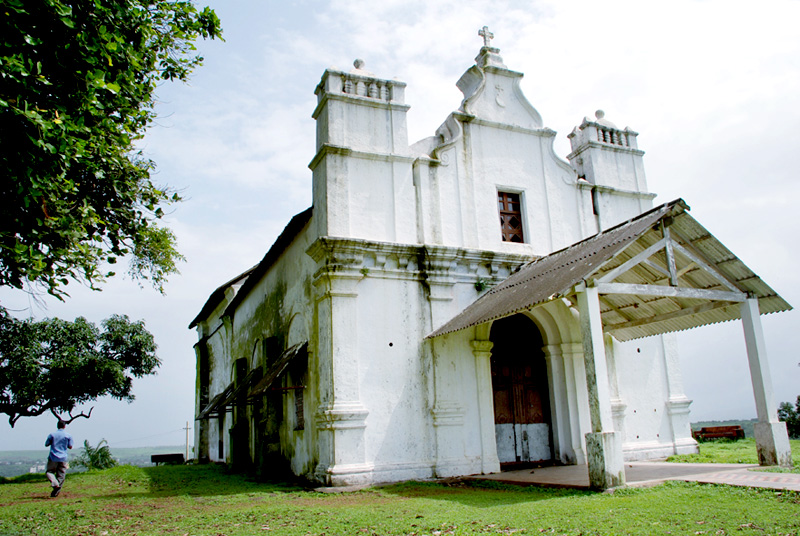 Cansaulim Monte is best known far and wide for the Chapel of Three Kings that is nestled here. It is in a beautifully quiet spot at the top of a hill with stunning views right over the South Goan coast and you can see loads of other whitewashed churches in every direction that you look. Its wide expanse of land is useful for numerous games. It is a very restful place and one can enjoy spending hours just sitting there and soaking up the view.
      10.  Martin's Corner :
Martins Corner is a popular restaurant in Goa known over 21 years for good food, hospitality, ambiance, and great entertainment (music and karaoke). This place is famous for its sea food, you can choose your own fresh sea food, which is displayed before you to select. A must eat at martins corner is Crab Masala and Lobster. The place is frequently visited by celebrities – Hollywood and Bollywood film Stars and Cricketers.
–  By Pratiksha Trivedi