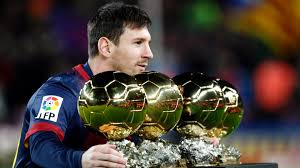 It has been a great topic of debate which even experts argue about whether Argentina and Barcelona's Lionel Messi is the best ever footballer the world has ever witnessed. It is a tough question and people usually believe that he will become the best ever in the time he retires.
Is Messi up there alongside the greats like Pele, Maradona, Di Stefano, Ferenc Puskas, Johan Cruyff. Well his trophies and individual awards surely take him alongside them but is he better than these players who have been greatest legends of the game.
Messi has been part of Barcelona and he has won almost every trophy in the club football, from La Liga titles to Champions League Trophies. He has also won many individual honors and has won player of the year award 4 times.
At the club level he has been the best but he is yet to win a world cup for his country Argentina. This year Argentina are in the finals of the World Cup Brazil and have a great chance to win the international trophy by beating Germany.
This has aroused some great questions that after winning the World Cup will anyone have the guts to question Messi's records or ability and whether he be regarded as the greatest since he will be winning all the major honors possible at club and international level. Maradona has won the world cup and he is regarded best ever alongside Pele who won it three times but Messi has done great honors at club level that even one World Cup will compensate him to be called better than everybody else.
Also Messi still has plenty of years left to win more and more honors and titles. May be even after Argentina wins this World Cup some might still argue about Messi but after his retirement it is a great possibility that he will be regarded as the best ever and there would be no doubt in anyone's mind about it.
Will there be someone like Messi in the future is tough to tell, as he has made that level but did anyone imagine during the playing years of Maradona that someone better would come along in the future. With the modern day football getting more and more tough and technical it is possible we might see someone somewhere a young kid who might have the credibility to be better than Messi but atleast for now Lionel Messi can be called as the best ever? it is a great topic of discussion which might never end.
– Jainam Jhaveri
The following two tabs change content below.
BMS Graduate with a Diploma in Software Engg and a Sports Blogger... passionate about Blogging, Football, Video Games, Surfing Internet and Love to Travel and visit new places.