Why Kaisi Yeh Yaariyan television series so popular among youngsters?

Is it the talented and stunning cast?

OR it is the chemistry between the stars?
If we talk about Soaps or serials here, everyone have their own favourite programmes which entertain them. Who doesn't want entertainment in their life?
MTV India is the Indian version of MTV, a channel specialising in music, reality, and youth culture programming. It was launched in 1996. MTV India creates shows across genres of music like COKE STUDIO, MTV UNPLUGGED, reality television like MTV ROADIES, SPLITSVILLA which is full youth based. MTV India broadcasts many famous television programs for people with varied interests. Its main emphasis is on music based entertainment and reality shows.
Taking serials in mind, today we going to talk about MTV most popular show Kaisi yeh          yaariyan as most of you know about this show( including me 😀 ) MTV channel is well known for launching various kind of shows related to youth which is encouraging the youth as well as a media of entertainment. MTV have aired so many serials which gain a lot of popularity and so do the characters involve in it. The first and most popular reality show of MTV is Roadies which have achieved a well-known fame and still is working on its new series of programme.
Let's chat on our topic which is MTV Kaisi Yeh Yaariyaan which is an Indian remake of the Korean drama, Boys over Flowers which in turn is an adaptation of the Japanese shōjo manga series of the same name. The core of the show highlights the importance of friendship along with other relationships be it a family one, a romantic one, a student and teacher one. The show is about a successful music band Fab 5 at S.P.A.C.E academy and two new girls and how they tackle the situations that Fab 5 creates for them. Nandini Murthy (Niti Taylor) is a normal girl living with her aunt and uncle in Mumbai. After she and Navya Naveli (Veebha Anand) save a boy at S.P.A.C.E. Academy from committing suicide, they're offered full scholarships there in order help the school's reputation. However, the girls are the new targets of the Academy's famous band Fab5, a group of rich spoiled kids- Manik, Dhruv, Mukti, Kabir, Alia. However, each band member has his or her own troubled background. The show explores the stories of each character and their relationships, especially the blossoming attraction between Nandini and Dhruv and the love/hate relationship between Nandini and Manik, the leader of the band. The characters have earned immense popularity and has been considered a rage amongst young people which airs from Monday to Friday at 6:30pm.
Discussing about famous on screen couple MANAN [who have also won the title: New Hottest Jodi on India TV]
NITI TAYLOR as (Nandini Murthy) (8th Nov 1994) J : Niti Taylor is an Indian actress who hails from Gurgaon, Haryana. She has started her journey in very young age and have won many hearts because of her talent and her cuteness. She featured or can say introduced in the Indian television with the show name "Gulal". She played the role of Devika, vasant's cousin. Then starred on the highest TRP show "Bade ache lagte hain" in Sony TV, the role of Naina, Juhi's Daughter. She has also been seen in "Ye hai aashiqui" as well as" MTV Webbed". Her big chance arrived when she bagged the lead role in "Kaisi yeh yaariyan".The show is full youth oriented show and she is playing the role of female protagonist. The musical drama has given her the opportunity and given her the platform to showcase her capabilities. Her innocence has given a complete justice to the role of Nandini. Her character has this attractive personality which has gained a good fame amongst viewers. As a viewer when we see the show her acting tends to be so real that makes her a tremendous actress(she is personally my favourite 😛 )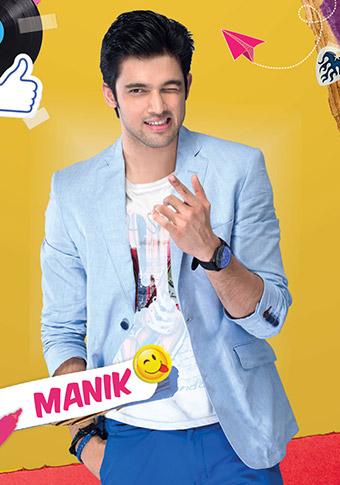 PARTH SAMTHAAN( urff:- Manik Malhotra- The heart throb of the show :* ) ( 11 march 1991) : Parth samthaan is an Indian television actor and former model born in Mumbai, stays in Pune, Maharashtra did his schooling in Pachgani and is pursuing his architecture degree in LS Raheja School of Architecture. He has been always interested in acting and has done several skits in his college as well as fashion shows. He has also done an acting course from Kishore Namit Kapoor Institute in Mumbai to sharpen up his in building acting carrier. Samthaan broke through as a model when he finished as runner-up in "Pantaloons Fresh Face Model Hunt 2012". He has also done a short film "The last bet" and also featured in Marathi short film "Pradosh". He have worked in various television series like Gumrah, Ye hai aashiqui, Mtv webbed, zing's Pyaar tune kya kiya and he also played the role of Prithavi in Mtv show "Best friends forever". Parth is currently known as Manik [The monster] from the show kaisi yeh yaariyan who has this charming personality who plays guitar and sings so brightently. He gives a true life to his character and play it so well with the entire dedication of his into the role to make it perfect. Who doesn't love the chemistry of "MANAN"  -Manik and nandini who have also won the NEW HOTTEST JODI on India TV defeating all other TV stars with a huge amount of votes. Their immense chemistry have blew up the fans and achieved a massive fame. Their love for being together went through various situations like hates to fights to understanding to trust to like to love which just went in a flow in an adorable manner! Parth samthaan have huge fan following among girls (I'm his fan too) love all his hard work and appreciate his dedication to acting.
Youth are loving and appreciating the show because is based on youngsters problems which is related to family relations, friends, relationships and there complications and how you always blessed to have your friends to stay by your side and helping you out in your worst times J The viewers are most likely able to link themselves with the characters and are liking the cast by their performances that they are achieving the highest peak of the fame in Television industry. If you haven't watch the show yet I would suggest to give it a try.